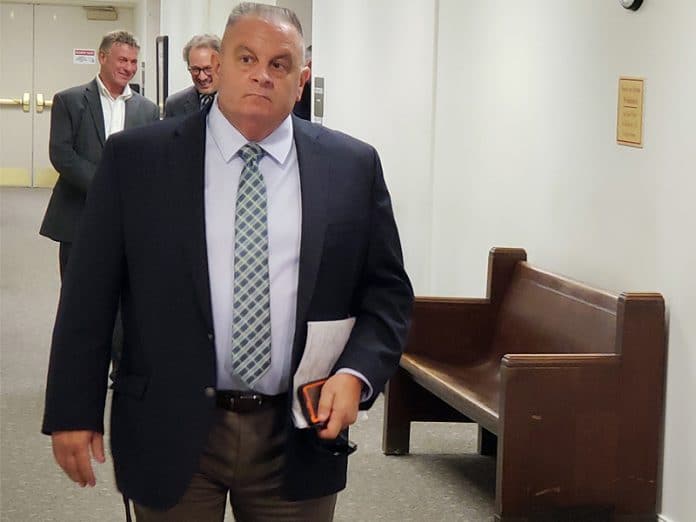 The Pennsylvania State Police's case against Ambridge Police Chief James Mann began to fall apart before it even started yesterday, as a preliminary hearing for the embattled law enforcement executive launched with the Beaver County District Attorney's Office withdrawing charges of insurance fraud and false swearing. After five hours of testimony, a district judge dismissed additional counts of theft by deception and official oppression.
By the end of yesterday's proceedings, what remained pending against James Mann for a future trial were five charges alleging he mistreated the officers under his command: threats of unlawful harm to influence a judicial proceeding, intimidation of a witness, obstruction, retaliation, and harassment. Mann's defense team of attorneys Stephen Colafella and Frank Martocci acknowledged their client can be "boorish and tyrannical" at times, but insisted all of the remaining felony and misdemeanor counts stem from a group of undisciplined and unproductive officers who were rebelling against a chief trying to rein them in.
Assistant District Attorney Albert Torrence called seven witnesses yesterday, attempting to establish that Mann had used his position to steal from a public he had taken an oath to serve, and exploited his authority to retaliate against fellow lawmen who tried to stop him.
First among Torrence's witnesses was State Police Cpl. Timothy Morando.
Morando testified that he filed the criminal case against Mann after eleven officers from the Ambridge police department caravanned up to the Brighton Township state police barracks one evening in April, bringing with them allegations of theft and harassment by their chief.
"Several officers were crying," said Morando, who described spending hours interviewing each of them one by one. Morando said the men told him Mann had been threatening to fire them.
Cpl. Morando said his investigation had begun before that night, when Ambridge Mayor David Drewnowski contacted him about a letter left anonymously in his front door alleging Chief James Mann had been committing theft against the borough by falsely reporting his hours.
"(Mayor Drewnowski) wasn't getting a lot of help from council or the borough manager," testified Morando. "He wanted an independent investigation."
During his testimony, Drewnowski confirmed getting the letter and said he believed going to the Pennsylvania State Police was the right thing to do.
"I reached out to (state police) because I knew they would be independent," said Drewnowski. "I considered that as a theft of taxpayer's money."
Under repeated questioning by Colafella, Drewnowski denied he had made it a campaign promise to go after Mann if elected mayor. Colafella hinted he may have witnesses in future proceedings who could testify to the contrary.
Ambridge Sgt. Glenn Sovich told the court that he had been the one who dressed up in a raincoat, concealed his face with an umbrella, and hid under cover of darkness to leave the letter in Mayor Drewnowski's door.
"I didn't tell anybody, not even my wife."
Sovich had been tasked with payroll for the department, including entering hours into a system which tracked sick, vacation, and compensatory time for officers. He said he began noticing that Chief Mann had been putting in for far more hours than he was due.
Lt. Brian Jameson testified that Sovich had reported the problems with Mann's hours to him.
"I was told there is no way he had that much time … it did not add up … There was a lot more comp time and sick time being used than what was available."
Jameson said that Mann later ordered him to remove Sovich's access to the system.
"(Chief Mann) tracked his own comp time, his vacation, sick time … he never submitted paperwork."
Morando explained that Mann had been out of work due to an off-duty injury he sustained while trying to move a propane tank at his hunting camp. Mann had surgery on his back at the end of December 2016 and remained on full disability through September 2017, when he returned on light duty.
Mann had been collecting insurance benefits from Aflac in a daily amount of $66.66 the entire time he was out on disability, but just three weeks after his surgery was already doing work for a drug task force being run by the Pennsylvania Attorney General's Office.
Agent Charles Hurst, who oversaw the task force, testified that Mann would complain about his back hurting, but never disclosed his disability status, which would have prevented him from doing work for the agency.
"He told me his wife had lost her job and he was going to work as much as he could," said Hurst.
Morando said his investigation showed Mann used 738 hours of comp time in 2017, despite his department having a contract that only allowed officers to bank 120 hours — he also cashed in more hours in sick time than he had available to him. He alleged that Mann was at times doing a "triple dip," getting paid court time, comp time, and insurance disability pay all for the same hours.
Retired Harmony Township Police Chief James Essek was called to testify as an expert witness, confirming that the collective bargaining agreement Ambridge Borough had with its officers limited banked comp time to 120 hours.
As Morando's investigation progressed, he said another officer in the department, Zadock Dismuke, began helping Mann with his hours problem. Morando testified that after the eleven officers went to state police, Dismuke donated 173 hours of his own sick time to Mann, a move that was approved by the borough. But even with that, Mann was still short, alleged Morando.
"James Mann and Zadock Dismuke allegedly found a folder on the chief's desk about unclaimed court time going back up to 5 years ago," said Morando. Despite being years old, the hours were entered at Mann's current rate of pay, something Assistant DA Torrence described as an attempt to "balance the books."
Time slips from 2013 and 2014 — which could have been used to verify whether or not Mann had been paid for the newly discovered court slips — were "missing," Morando alleged.
The prosecution presented a total of 8 exhibits during yesterday's hearing, which included pages of data detailing Mann's hours.
Even allowing for Dismuke's donation of time to Mann, Morando determined the total loss to taxpayers of Ambridge Borough was $24,460.44.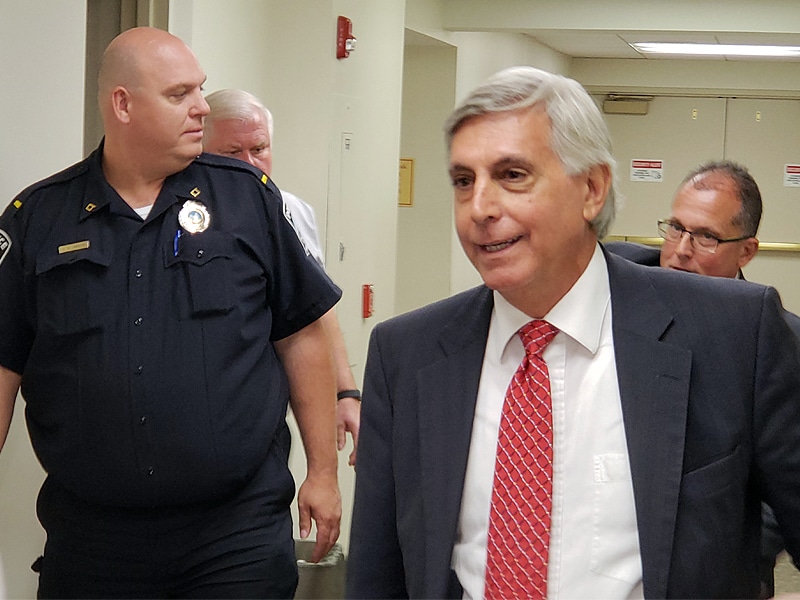 Several men testified about alleged harassment that Mann subjected his officers in the department to as the state police investigation got underway.
Jameson told the court he tried to act as a buffer between Chief Mann and the officers. He said Mann was constantly threatening to discipline and fire people.
"It made it difficult for officers to go to work."
Jameson acknowledged under cross examination that Mann had been a difficult person to work with even before becoming the subject of investigation by state police, but said Mann's behavior got far worse after coming under scrutiny.
"He called me up on the phone," Jameson said, giving the court one example. "He said, I need you to do something for me today. I want you to get a hat and start pulling names and writing them down on a piece of paper … that's the order I am going to fire them."
Sovich said Mann regularly threatened to fire him, saying, "I am going to cut out the cancer. You, (John) Chickos, (Scott) Kleber. And I don't care about kids."
Defense attorney Colafella noted that Sovich, Chickos, and Kleber were the three lowest performing officers in the department, and Jameson acknowledged that Mann's remarks about cutting out the cancer started well before the criminal investigation.
Patrolman Michael McQuaide testified he had hosted a poker night at his home for fellow officers, and Mann later called alleging he had used the occasion to develop a conspiracy against him.
"He told me he was gunning for me next … He said he had 4 council people in his pocket and they would do whatever he said."
McQuaide said Mann never specifically told him not to cooperate with state police.
Other testimony detailed a heated encounter Officer AJ Bialik had with Mann, and discipline taken against Officer Jason Seng which prosecutors alleged was retaliatory, although neither officer testified in court directly.
After Assistant District Attorney Albert Torrence rested the prosecution's case, defense attorney Frank Martocci recalled State Police Cpl. Timothy Morando to the stand.
Martocci lifted up a packet of papers — an external audit of Chief Mann's hours conducted by Turnley CPA at the request of Ambridge Borough. The audit concluded there had been no financial loss to the taxpayers.
"I disagree with that result," said Morando, who went on to describe alleged deficiencies with the report. Among them, Morando claimed, was the auditor's failure to take into consideration the binding bargaining agreement that prevents officers from banking more than 120 comp hours.
Defense attorney Stephen Colafella did not mince his words during a closing statement.
"Clearly there are problems in this department … It is a soap opera like atmosphere in there … (The prosecution) is trying to make it seem that this boorish, tyrannical attitude that (Chief Mann) has had for years was in the context of this state police investigation. It was not."
Colafella downplayed some of the allegations of harassment levied by Mann's subordinates, "It is inconceivable they would come here with something that petty." And said any problems that might exist with Mann's timecards are not a criminal matter, "It doesn't seem like this is a very tight run ship … that's a contract issue."
District Judge Tim Finn interjected several times during Colafella's closing, asking for clarification on several issues in the case.
"The evidence today was that the defendant didn't enter his own data. It was always someone else who entered that data," Finn noted.
Assistant District Attorney Albert Torrence used his closing statement to sum up Sgt. Morando's testimony, which had at times seemed difficult to follow.
"(Chief Mann) needs to come up with a way to earn the same amount of money not working as he did working … He was off work, his wife was off work, he needed to get that money."
Torrence said that Mann "took advantage of the lack of oversight that is in that borough" and the problems with his hours were no mistake.
"Every single officer did it correctly except him."
District Judge Finn appeared confused by the theft case presented by prosecutors. "Why can't he moonlight with the attorney general's office," he asked Torrence.
"He is at work and off work at the same moment," replied Torrence. "You can't do that judge. That is theft."
Judge Finn disagreed, dismissing the felony charge of theft — it had been the only remaining count alleging financial improprieties by Mann.
District Attorney David Lozier declined comment after the ruling. Assistant District Attorney Albert Torrence also declined comment, other than to say prosecutors will consider refiling the theft charge against Mann. Torrence also said the District Attorney's Office will consider refiling the insurance fraud charges after Aflac concludes an internal fraud investigation.
A trial for the remaining charges against Chief Mann has been scheduled for March 4.
"I'm looking forward to going back to work," Mann told reporters.
See Also:
– In-Depth: Attorney Says She Went To State Police About Ambridge's Chief And Solicitor
– State Police Investigating Ambridge Chief As His Officers Come Forward With Complaints
– Ambridge Council Places Chief Mann On Paid Leave – Hires Private Security Firm To Investigate Police Department
– Ambridge Police Chief Arrested By State Police On Multiple Felony Charges
– LISTEN: Ambridge Suspends Mann Without Pay – Rehires Former Chief To Serve As Interim In His Place