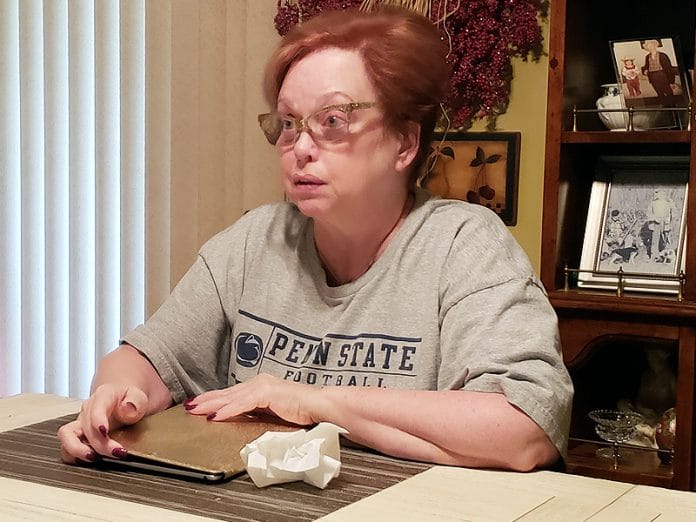 The mother of murdered Rachael DelTondo called 911 Tuesday night to have county detectives removed from her Aliquippa home.
Detectives Timothy Patrick and Robert Heberle had gone to the home to address an altercation involving Lisa DelTondo earlier at a polling station.
But Lisa, who has grown increasingly agitated and distressed over the nearly six months since her daughter's death, verbally assaulted the men and tried to throw them out. Her cousin, Jackie Belcastro said today that she fears Lisa has lost control of herself and there may be further tragedy.
"I'm afraid she's going to do something to someone," Belcastro said. "I'm afraid she's going to do something to herself … I know she lost her daughter, but nothing is going to bring Rachael back, and now I'm afraid I'm going to lose Lisa too."
Lisa admitted to the altercations to BeaverCountian.com today. She said she first threatened family members of Rachael's former fiancée, Frank Catroppa, his mother Yvonne ("Vonnie") and his brother Joseph ("Jojo") at the Aliquippa polling place. Lisa has said in the past that she does not believe Frank Catroppa is her daughter's killer.
She also acknowledged that she later berated county detectives, the district attorney, and even her husband.
Rachael DelTondo was murdered at the bottom of her parents' driveway on Mother's Day. County detectives, who are solely investigating the killing, have yet to make an arrest.
Belcastro said she and Lisa went to the polls together. Lisa and Belcastro were raised as if they were sisters, and Rachael referred to Belcastro as her aunt.
"Yesterday was horrible, it was horrible," Belcastro said. "(Lisa) had a big meltdown yesterday. Everything exploded."
Lisa said she spotted Vonnie and Jojo while waiting to vote.
"I went 'ptooey,' like that, like a fake spit," Lisa said. "(Vonnie) turned around and gave me a dirty look … I said bring that dirty look over here I'll rip it off your face … I was going to beat her ass because I could. I could have beat Jojo's ass too as pissed as I was."
Lisa said she then turned her attention to Jojo.
"Jojo laughed and his belly was full of jelly … I screamed to him, you fat bastard, I'll gut you too, and I asked him how his cocaine business was doing."
Online court dockets show Joseph Catroppa is currently awaiting trial in three separate cases on felony charges of possession with intent to deliver a controlled substance. Catroppa has pleaded not guilty in the cases.
Lisa said she was hoping to provoke a reaction, "I had something in my purse that I could have used against him."
Lisa did not elaborate about the item, but Belcastro said she is extremely concerned.
"I heard her tell you that today. I don't know. I don't know what she carries around with her, I really don't."
Lisa said she went home and was awoken by the county detectives at about 8:30 p.m.
"I was sleeping and detectives Patrick and Heberle showed up," she said. "I thought they came to tell me they arrested my daughter's killer. Instead they admonished me for how I talked to Vonnie and Jojo."
Lisa said she told the detectives to arrest her if they felt she had done something illegal, and when they refused, she tried to remove them from her home.
"I used a lot of profanity. I called them both liars, and cheats, and motherfuckers."
When that did not work, Lisa said she called the police.
"I called 911 and told them to get them the fuck out of my house …. My husband was screaming for me to shut up, but there's no shutting me up …. He told me the detectives were trying to help us …. My daughter is dead and buried, they haven't done anything for me …. So this may be the end of our marriage, I can tell you that much, for him not respecting what I said last night."
Lisa said detectives continued to warn her about her behavior.
"(Detective Patrick) said you can't go around doing this, we need you to testify, you can't get arrested. I basically called him a (n-word) … I told them they don't have to find out who killed her. She's gone. To me everything's over."
Detectives spoke with the 911 operator and left the DelTondo home.
Lisa told BeaverCountian.com she also called District Attorney David Lozier earlier today about her encounter with the detectives. Lozier could not be immediately reached for comment.
"I told him both of his detectives were motherfuckers," Lisa said. "I told him I don't trust you just like I don't trust them."
Belcastro later said the two women were in a nail salon while Lisa was interviewed by BeaverCountian.com on the phone today.
"She is nuts. She was talking like that in the middle of the nails place. We were getting our nails done, and the girls were looking at her like she was nuts," Belcastro said. "I don't know what to do, I have been crying my heart out. I just don't know what to do.
"I am concerned about her. She's over the edge."
Aliquippa Acting Police Chief Robert Sealock did not return a message seeking comment.
See Also: – Timeline: The Murder Of Rachael DelTondo