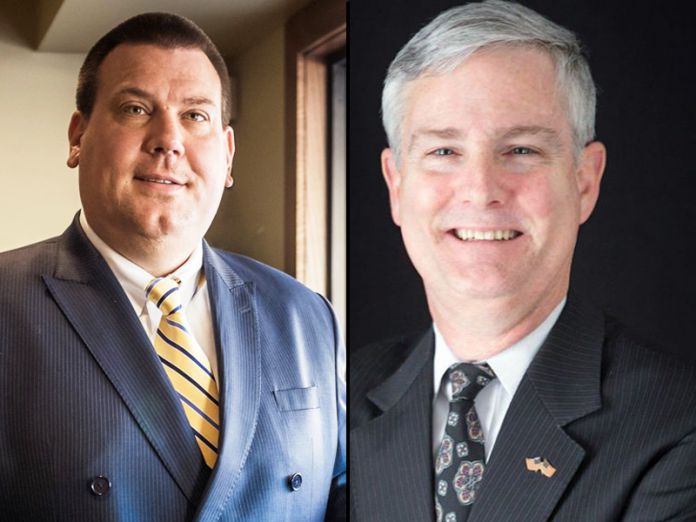 Beaver attorney Gerald Benyo Jr. will represent himself at his Dec. 12 preliminary hearing on reduced charges that he beat his estranged wife.
Beaver Falls police dropped initial charges against him last week because Sharon Benyo, 43, changed the details of her story, including saying she didn't know where it happened. The only details she didn't change were the accusations that Benyo Jr., 49, beat her in a vehicle.
"It's difficult to plan a defense strategy when the Beaver County Detectives cannot provide any specific facts as to the date and time the incident occurred or in which vehicle (my mother's Nissan sedan or my Hummer SUV) the assault supposedly took place," said Benyo.
"The only fact that remains consistent is that I am being named as the defendant and I expect that as I prove each inaccuracy in the Beaver County Detectives' investigation, the facts will continue to evolve."
The county District Attorney's Office chose to file reduced charges because Sharon Benyo, who said she was inebriated when the alleged attack occurred, claimed she was later detoxing and remembering different details.
The DA dropped a felony aggravated assault charge and chose to press on with the two simple assault and one harassment charges.
The day after Beaver Falls police filed the initial charges on Nov. 7, Sharon Benyo contacted authorities and requested an additional interview. It was her fourth with Beaver Falls police and county detectives.
She told police the attack occurred on Oct. 27, not Oct. 26 as she first stated. She also said she couldn't remember what town the attack took place in, or whether she was actually in Gerald Benyo's vehicle – though she described his Hummer initially to police – or a Nissan car belonging to his mother. In addition, she said she was no longer sure that he hit her with a gun, and that it could have been his fist.
Police wrote that on Oct. 30 sheriff's deputies noticed Sharon Benyo's injuries as they were serving her an arrest warrant for failing to appear for a court action. Beaver Falls police had charged her on Oct. 1 with possession of drug paraphernalia, disorderly conduct and public drunkenness.
Deputies observed the woman, 43, had a cut above her eye, swelling around both eyes and bruises on her body, police wrote.
Contacted Monday, Benyo Jr. said he and his wife separated in August and are in the final stage of divorce. He expressed anger at District Attorney David Lozier and his detectives, of whom he's been critical in the past.
"I believe that anybody who runs afoul of Mr. Lozier … is risking having criminal charges filed against them," he said. "This incident never occurred. I have no idea who caused injury to Sharon."
Lozier commented to BeaverCountian.com last week, "The complaint tries to clearly set forth the reasons for the change."
Benyo Jr. provided the following statement:
"I am innocent of all criminal charges. Criminal charges have been filed and withdrawn and filed again based on the 'investigation' by Mr. Lozier and the Beaver County Detectives who are zealously pursuing this farce of a criminal case for reasons that have nothing to do with the protection of our community.
I am faced with criminal charges despite the fact that I voluntarily submitted to a 3-hour video recorded interview (to which no fact provided has been proven inaccurate), consented to the search of my vehicle for any forensic evidence of any crime (which was specifically declined by the Beaver County Detectives) and offered to undergo a polygraph examination or voice stress analysis to confirm I committed no crime (which was also declined by Mr. Lozier and the Beaver County Detectives).
The Beaver County Detectives now admit the original Complaint filed under oath with the Court was factually inaccurate as it specifically stated the criminal incident occurred in Beaver Falls on Friday, October 26, 2018.
Miraculously, this revelation by the County Detectives occurred not through any investigation they conducted, but only after I publicly stated I had alibi witnesses to confirm I was never in Beaver Falls at any time on that date as well as having confirmation on my cell phone of my whereabouts for that entire day.
The excuse for the change in facts provided by the Beaver County Detectives was that they were unable to ascertain their 'victim' was under the influence of drugs and alcohol or detoxing when she was interviewed on multiple occasions.
The County Detectives' investigation now contends on an uncertain date and unidentified time an incident allegedly happened without any witnesses in either Beaver Falls or New Brighton in either my mother's vehicle or my vehicle during which injuries occurred to the 'victim' from whom I have obtained a PFA against, put in jail for violation of the PFA, and been separated from with a Divorce that was to be finalized two weeks prior to the filing of the original criminal charges.
Perhaps this will provide Mr. Lozier with the opportunity to appear in a criminal courtroom and personally prosecute his first criminal case after 35 months of being Beaver County's District Attorney.
It is hard not to conclude Mr. Lozier allows the Beaver County Detective Bureau to attempt to silence anyone who challenges him or makes his administration look incompetent. There is a growing amount of evidence that FOL (Friends of Lozier) are protected from prosecution while other citizens who are critical of him and his administration or make the Beaver County Detectives appear incompetent face prosecution.
It is time that the Beaver County Commissioners save the taxpayers approximately $1,000,000 a year (not including overtime) and disband the Beaver County Detective Bureau and let the professionals at the Pennsylvania State Police aid local law enforcement on major case investigations. Demonstrating Mr. Lozier's and the Beaver County Detective Bureaus violation of my client's Constitutional Rights and illustrating incompetence are the only acts I am guilty of committing."
See Also:
– Attorney Gerald Benyo Arrested On Felony Assault Charges
– Investigative Report: Aliquippa Officer Claims DA Lozier's Office Retaliated After He Provided Evidence Of Corruption
– Listen For Yourself: District Attorney Defends Decision Not To Charge Treasurer Javens For Violating State Disbursement Law