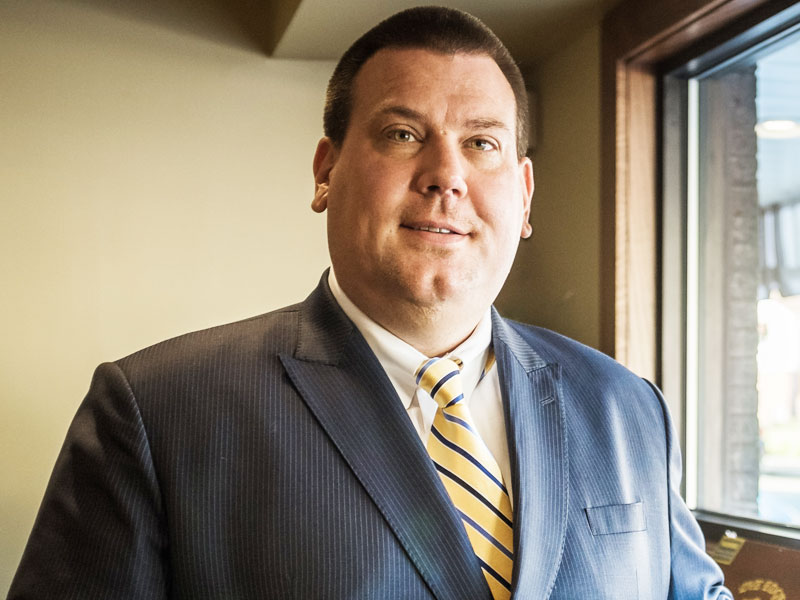 Beaver attorney Gerald Benyo Jr. is facing charges he beat his estranged wife.
Beaver Falls police charged Benyo, 49, on Wednesday with one count of aggravated assault, two counts of simple assault and one count of harassment. He is free on a $20,000 unsecured bond.
Police wrote that on Oct. 30 sheriff's deputies noticed Sharon Benyo's injuries as they were serving her an arrest warrant for failing to appear for a court action. Beaver Falls police had charged her on Oct. 1 with possession of drug paraphernalia, disorderly conduct and public drunkenness.
Deputies observed the woman, 43, had a cut above her eye, swelling around both eyes and bruises on her body, police wrote.
She told police that Benyo had picked her up in his vehicle on Third Avenue near Short 10th Street in Beaver Falls around 4 p.m. on Oct. 26 and the two had argued before Benyo beat her with closed fists and an object that may have been a gun. Benyo threw and drug her out of the vehicle, she said, then he pulled her back in.
Beaver Falls police, along with county detectives, interviewed the woman before filing the charges.
Benyo contacted BeaverCountian.com after being charged to comment on the matter. He claimed police were contacted twice in October because his wife violated a protection from abuse order he was granted against her in September.
Benyo denied the assault, said he wasn't in Beaver Falls at the time alleged, and will not accept a plea deal.
Benyo also was critical of county District Attorney David Lozier, who he said authorized the charges before speaking with him and analyzing any evidence.
Lozier on Thursday said officials are required by law to file charges as soon as they have credible evidence, and that they took great care with interviewing the victim. "I'm satisfied with the investigation to date," he said.
Sharon Benyo waived her preliminary hearing Wednesday on the Oct. 1 charges. According to online records from the PA Department of Corrections, she's currently being treated as an inmate at Gateway Rehab in Aliquippa.