There comes a time in every childhood when a light clicks on and you realize your dad is more than just a dad.
Cher Balestrieri, now 36, of Hopewell Township remembers when it was her turn as a tot to discover that everyone's dad also had an outside job. Effervescent and articulate, she quickly recapped how she discovered this friend's dad did this. This one's dad did that.
"And my dad was the Lone Reefer," Cher said.
She laughed. Yes, her dad dressed as a superhero toker. Based loosely on the Lone Ranger, he wore a cowboy hat, black eye mask and a Western bib shirt made famous by the likes of John Wayne.
But marijuana leaves were hand painted on Eddie Wagner's bib shirts, the words "Natural Energy" graced the front, and "… Just Say Grow" decorated the back.
Cher certainly would never have had to do much to prove to her friends now or then that her dad was indeed the Lone Reefer.
Her dad is the guy driving the van in an iconic counterculture photograph that has appeared on a countless number of web pages and discussion boards devoted to pot legalization and American history.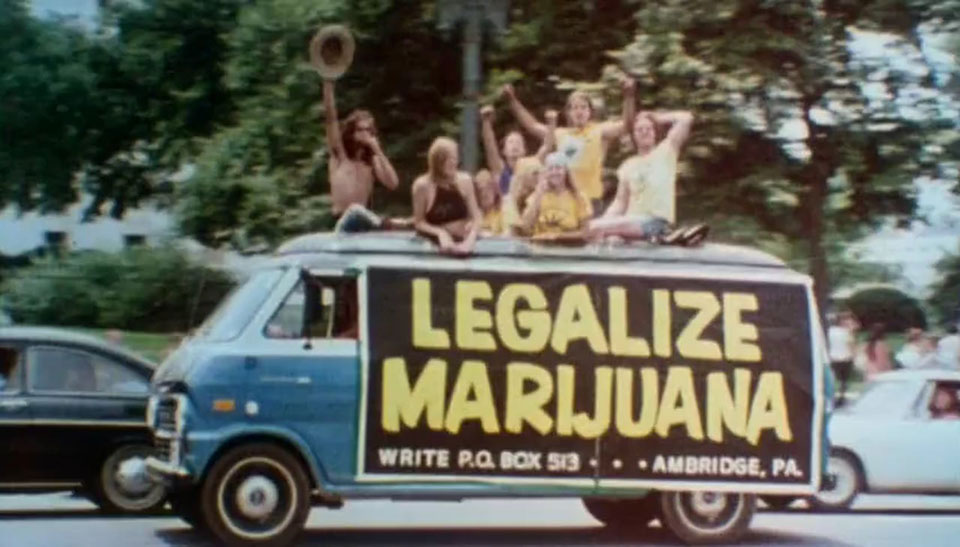 There's Eddie, then of Economy Borough, driving a blue Ford Econoline past Jimmy Carter's White House the weekend of July 4th, 1977. "LEGALIZE MARIJUANA" reads the sign covering most of its side. "Write P.O.Box 513 … Ambridge PA." is in much smaller letters underneath. (Eddie was recruiting for his pot legalization group.)
On top of the van, eight young men and women cheer and smile, some poking out from a sunroof.
That image and its tagged words bring up about 25 million search results on Google. It's a still shot and it's on video in a film produced by High Times magazine about the era's movement.
But the story behind it isn't as well known.
For Eddie, now 63, living in Florida and working for his family's auto salvage business, it was the early days of what would become a lifelong pursuit for liberty and hard-core nationwide activism.
His advocacy mushroomed over the decades, but it began with weed. Nearly 42 years after that famous snapshot, legalizing pot was the one fight he never thought would take so long to win.
THE IMPETUS
Eddie Wagner was 17 when a police officer leveled a gun at his head.
He was in Old Economy Park in Economy with a few friends in two vehicles. Suddenly, police appeared.
"I was there to get a little weed off of somebody and I guess somebody tipped them off or something," he said.
Eddie had a quarter bag he quickly stashed up under the dash radio before the officer got to him.
"It was a good hiding place cause it was a tight spot," and it was before drug-sniffing dogs. Police didn't find it. They did find joints. Eddie went to juvie.
But when that gun barrel traced his head, Eddie said that was the second when he became a hard-core activist.
"It was definitely an experience for a 17 year old having a gun pointed at your head," he said. And it was for possessing pot. A fuse was lit.
"It's something that was totally unconstitutional for the federal government to pass the '37 marijuana tax act in the first place," he said.
"Then declare war on people who decided to continue to use it was totally ridiculous. And the amount of suffering and the amount of prison and the amount time that we served and the amount of suffering that was caused to our country is really bad. … I mean, it's right up there with the Vietnam War," Eddie said.
"That year or the year after I decided to put up the billboards and create the Lone Reefer."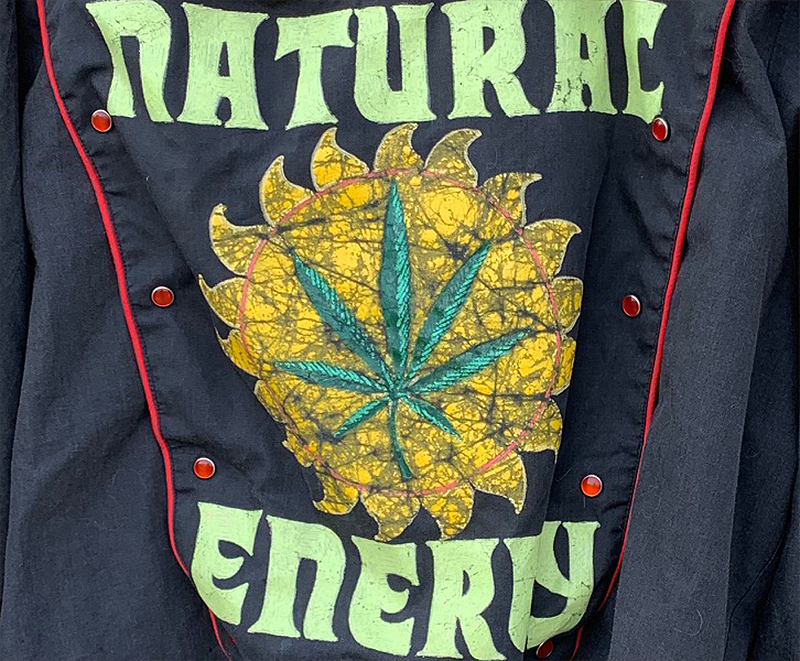 THE LONE REEFER
Eddie and his buddies read comic books back in the day.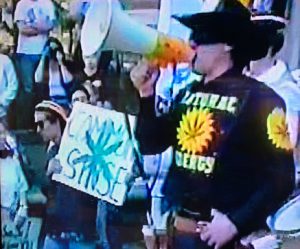 "I always felt like they never did enough for society," he said of the good guys. "There was this bad guy" and he got his, but "I realized there was this government full of bad guys. When I realized that I created the Lone Reefer."
He started dressing up as the character he envisioned. He went to Halloween parties and started writing stories about him. "By '78, '80, people knew me as the Lone Reefer."
Around 1974, he started attending the annual Fourth of July Smoke-in in Washington, D.C. and the Hash Bashes in Ann Arbor, Mich.
He joined with the Freedom Fighters with High Times and organized a local chapter of NORML, the National Organization for the Reform of Marijuana Laws, and he hooked up with the yippies with the Youth International Party. He put a sticker saying marijuana laws were unconstitutional on the seal of the new federal Drug Enforcement Administration building. He put stickers everywhere.
Then he got the idea for the billboards.
That sign on the side of the van in the photograph? That is the same as what appeared on two billboards Eddie paid for, one on Route 65 in Ambridge and one on Route 68 in New Sewickley Township.
Problem was, people couldn't handle the word "marijuana," he said, and they kept throwing buckets of paint over it. Eventually, the billboard owner told him advertisers were threatening to boycott and that he was finished.
"At that time it was a very controversial subject," Eddie said. "It was almost like you were swearing in their face. … And a lot of people thought I was crazy."
He added, "It was sort of like the beginning of political correctness. You can't say this. You can't do this."
So Eddie collected the unused billboard wrappers from the company and started using them on his van and as a sign to carry at protests.
A local news report on the billboard vandalism made the front page. "Eddie Wagner is putting his money where his mouth is," the story began. Then 21, Eddie told the paper the story about getting the gun pointed at him.
"They tried to reform me," he was quoted as saying. "And now I'm trying to reform them."
Eddie was pleased his message was getting out. His grandmother, on the other hand, let him know she was not. "My grandma wasn't happy (with me) at all," he said, laughing.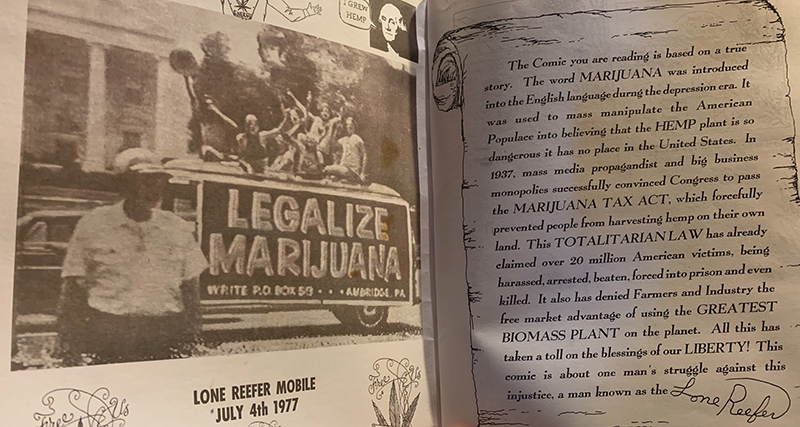 THE SNAPSHOT
Grinning at the far right of the group on top of Eddie's van is Bill Bollinger, now 70, of Ambridge.
Bill was 28 then. He met Eddie and the others hanging out at area bars. They rode motorcycles together and partied. They went to rallies.
Between Eddie and Bill, the names of some of the other passengers include Will, Sonia, Charlene, Jackie, Sean, Rich. They've since lost touch.
The group caravanned to the D.C. rally, prompting peace signs, fist pumps and cheers all along the route, Bill remembered. A crowd estimated by news reports at 3,000 camped in the park across from the White House.
Bill remembered sleeping bags in and around the van and little else. "I just remember getting high all weekend. I don't remember what I ate."
Federal park police policy was simply to control the crowd and not enforce the marijuana law.
So-called hippies and yippies played rock music, bathed in fountains, tossed Frisbees and climbed statues. They cheered at Eddie's van. Those in Eddie's van cheered back.
At some point, the local group joined protesters marching in solidarity from the White House to the federal prison. "We were going to turn ourselves in," Eddie said.
Main speaker Dana Beal "was saying you'll come at us at night and break in our doors and stuff but when we're all together you won't do anything," Eddie remembered.
Their chants still come easily to Eddie's lips:
"Free the Heads, jail the Feds!"
"We smoked pot and we liked it a lot!"
"Hemp Hemp Hooray!"
"Ready or not, legalize pot!"
Bill said he first saw the picture of them on the van shortly after the event. He keeps a copy of it on his cell phone.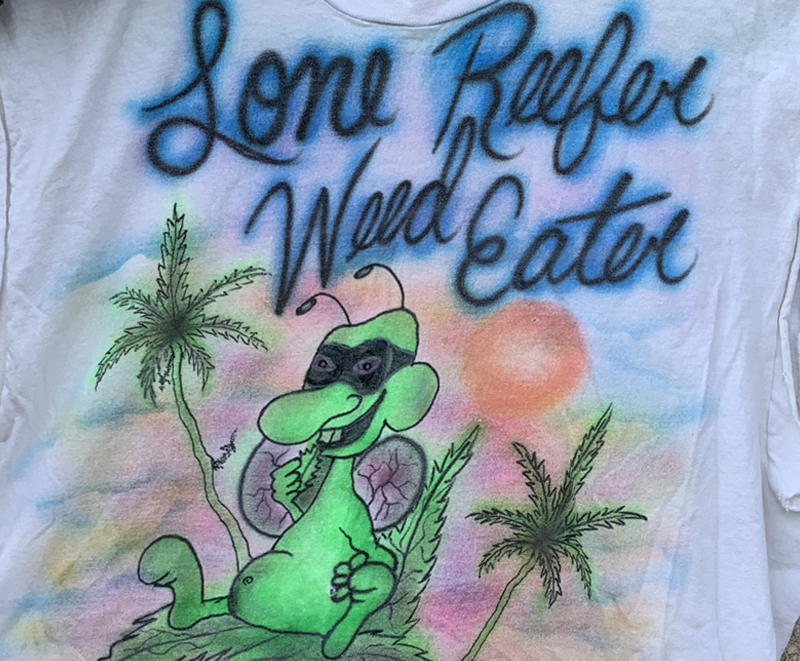 BLAZIN' HEMP AND LATER
Cher said had she been born a boy, her dad's plan was to name her Blazin' Hemp. Yes, that would have been something, she agreed.
She recalled helping Eddie make silk screened T-shirts in the basement, printed with slogans like, "The only thing illegal about marijuana is the law."
She was around 7 or 8. When her father wasn't working for the family salvage yard, he was busy with his activism.
"I never got to experience the rallies," she said. Her mother, who had split from Eddie when Cher was young, didn't allow it.
But Cher got to see all the accoutrements to the activist's life: the van plastered inside with stickers advocating liberty and limiting government power, the Lone Reefer costume. Her dad gave her his bibbed shirt as a gift and she was really touched.
Her dad was always a constant in her life, she said. "It took a while for me to realize he was really different. … I always thought it was so cool. … He's just something; such an interesting character."
Cher, who teaches third- to fifth-grade special education at Central Valley, said Eddie was so proud when she called KDKA radio as a teen and gave her 2 cents on legalization.
She remembers being nervous when she was younger because at some point she realized smoking pot was illegal and she worried for her dad. But she agrees with legalization, particularly for potential tax revenue that could help schools.
Her dad taught her that just because the world was telling you what was the right thing to do didn't make it so, she said. Father and daughter would debate: Eddie said liberty was the most important thing and Cher said it was love.
Eddie is "extremely not materialistic," Cher said. "Things don't matter, but these issues are really important to him."
And Eddie's important issues are many. He fought to have homeschooling made legal; he protested nuclear power and got arrested in 1979 going under the power plant fence in Shippingport.
He pushed his ideas as a regular on KDKA radio in the '80s and '90s. He'd go in dressed as the Lone Reefer. He attended and organized up to 30 rallies a year and brought in such heavyweights as Jack Herer, the author of "The Emperor Wears No Clothes," a history of cannabis now in its 12th edition.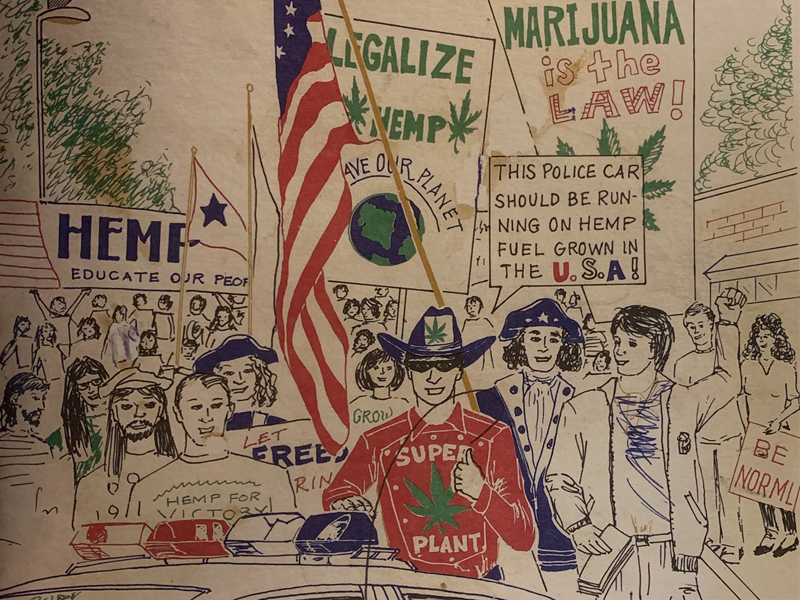 He published a Lone Reefer comic in the early 90's that chronicles his journey. "The names were changed to protect the innocent, which we all are in this war against us," he said. His disapproving grandmother makes an appearance.
He did a three-city tour with Willie Nelson. He worked with late Pittsburgh Steeler Steve Courson, who advocated for marijuana legalization and helped blow open the steroid controversy.
"(Courson) was all in because he was exposing how our society is so two-faced on drugs," Eddie said.
But Eddie's not doing 30 rallies a year these days. "I still do some rallies today," he said. "It's my hobby, well it's my life really, whichever way you wanna look at it."
He's active in the Libertarian Party. He works with constitutionalists. Everything comes down to two words in the Constitution for him: inalienable rights.
He's fighting against Florida's ban on 18- to 20-year-olds owning guns, which came in response to the Parkland school shooting. He's fighting against Florida's use of red light cameras. "It's crazy that we have a big brother government that keeps getting bigger," he said.
And he's still advocating for the legalization of marijuana. He finally won the battle to legalize hemp this year when President Donald Trump allowed for its regulated commercial growth and use.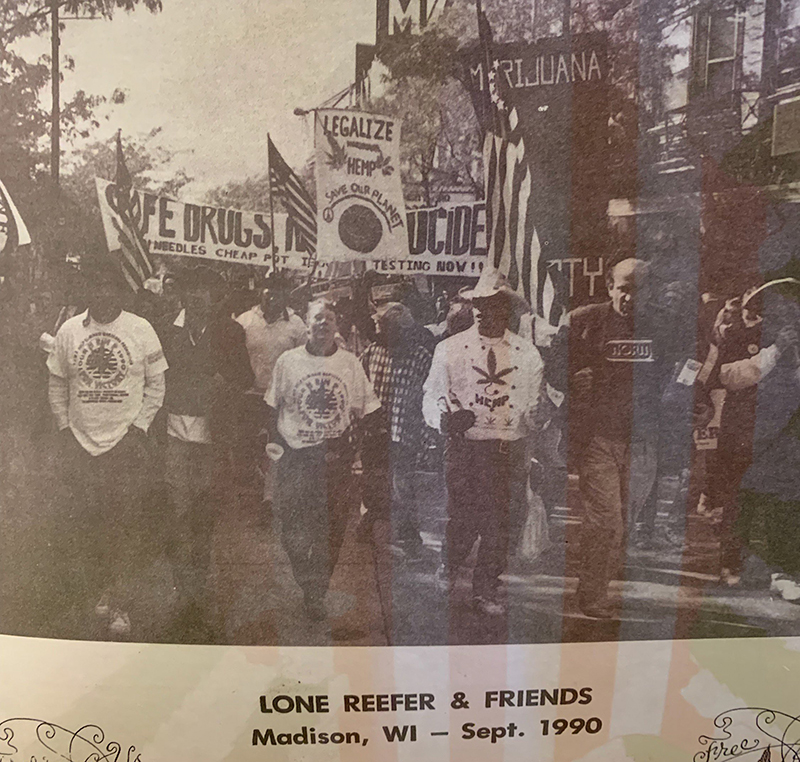 "I'm seeing a light at the end of the tunnel for marijuana, I really am. I mean it's legal in a lot of states," he said. But he never thought it would take as long as it has.
"I was the last one to get a draft number and I wanted to get rid of the draft," he said. He never thought the draft would end before marijuana became legal.
As for Pennsylvania Lt. Gov. John Fetterman now touring the state for input on legalization, Eddie said the equivalent of Hemp Hemp Hooray. "Now maybe people won't think I'm so crazy anymore," he laughed. "Naw, they'll probably think I'm still crazy, but that's all right."
Asked why he works so hard, his answer was simple.
"Well, you know, it's the liberty. That's why people give their lives. You know, some give all their lives to defend our liberty and as I started doing it, I started realizing how big of a lie it was and how our founders used it and everything else," he said. "I thought who perpetuated this and who are the idiots who keep perpetuating it?
"That's what inspires me. It's because how many people have lost their lives defending our liberty? How many people want American liberty in the world? And you know as you start doing this, you realize that our most precious, our most valuable resource is liberty.
"I will continue to work on liberty till I pass. It's something our children and our grandchildren should have."
Eddie's words inspired a boy Cher knew in school. He's now growing a crop in Colorado. He also inspired his nephew, Central Valley graduate Elliot Taylor, 23, a chemist now living in Greensburg.
Elliot said Eddie expressed his views from the time he was small. "As I got older, it made more sense," he said. At his grandfather's funeral in November, Elliot was eager to tell Eddie that he'd begun working for a cannabidiol (CBD) producer.
"He wanted to know everything about the industry," Elliot said. "He was so excited. … Something he's been fighting for for so long has created a job for one of his nephews now."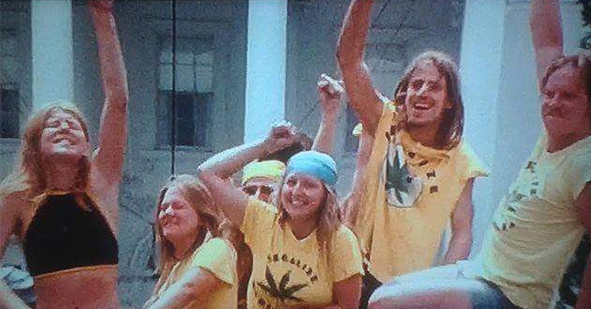 AN ASIDE ABOUT BILL
Bill has been clean for 33 years, ever since March 6, 1986. "I had to give up some of that life," he said.
Bill said he still attends four to five meetings a week, "not cause I think I'm going to relapse, but because I want to be around (that) family."
He said he started smoking pot when he was 11, peer pressured by friends. "I don't even know if they're alive," he said.
"I liked the feeling" from smoking pot, he said, but he went off the deep end with narcotics, coke and heroin.
Bill, a Vietnam War-era vet, served in the Navy from 1969 to 1972. While serving, his ship stopped in Peru and he and shipmates rented motorcycles and tried coke for the first time.
It was another example of the bad decisions he made earlier in life, he said. And it wasn't because he wasn't raised with good values. He was.
"My parents instilled in me values. … I just didn't use them a 100 percent of the time," he said. "But you know how you look back and they were always right."
He was thrown out of high school his senior year 1967 and wasn't allowed to graduate.
"I was kicked out for dancing on the stage during a pep assembly with the majorettes." Ambridge had won a championship and "a bunch of us were drunk and they kicked us out," he said.
At that time, when you got kicked out of school, the Selective Service would find you, then "it was one, two, three, four, you're in the Marine Corps.," he said.
So he ran down to the Navy recruiter in Rochester and signed up, two weeks later he was in boot camp in Wisconsin.
Bill later went to CCBC and got his GED.
He later did mostly construction work, roofing, roadwork. His last job was hanging off the 16th Street Bridge near H.J. Heinz chipping lead paint off the structure.
Regardless of his addiction, Bill still thinks marijuana use should be legal.
"What's the difference between two gin and tonics and two joints? There is no difference in my personal opinion," he said. He said he also knows a woman with eye problems who has benefited from using medical marijuana.
"If it's controlled right" it will be good financially for the states that legalize it, he believes.
And he doesn't believe pot was a gateway drug for him.
"I never had problems smoking pot." The problem was cocaine and Jack Daniels.
"I knew my party was over in '86. I was sick and tired of being sick and tired and being sick and tired and being sick and tired and being sick and tired."
But his memories of his time with Eddie and the others and the D.C. Smoke-In were before things went downhill for him and are happily colored in bright hues.
"We were hippies and hippies were peaceful," he said, adding it was all just about peace and love.
See Also:
– Beaver County Patients Say Medical Marijuana Is Making A Difference In Their Lives
– Hemp Oil Shop Opening In Bridgewater As Beaver County Farmers Prepare To Cash In On Plant's Legalization
– Medical Marijuana Dispensary Coming To Aliquippa
– Dry Leaf Medical Marijuana Becomes Available In PA Dispensaries This Week