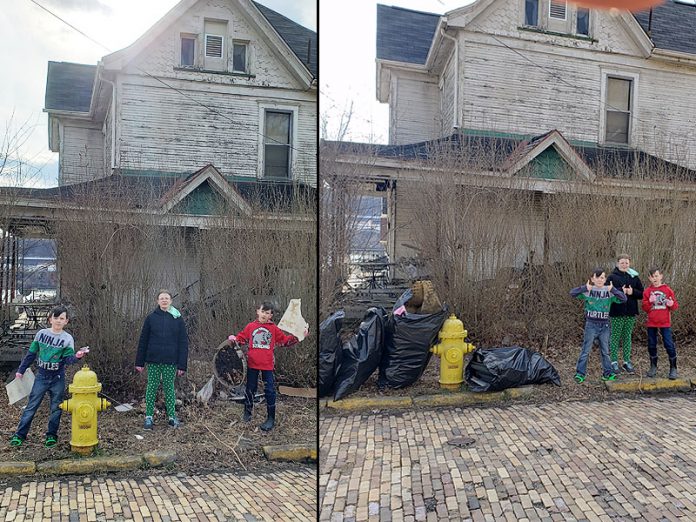 Listen To This Article:
Kids' social media challenges sometimes trend toward the dangerous or deadly, like swallowing Tide Pods and large amounts of cinnamon or lighting each other on fire.
But 11-year-old Alexa DeLucey of Freedom Borough saw a challenge on Facebook that she thought could instead help make the world a better place. She gathered a small tribe and did just that on Sunday.
Alexa and her brothers Wyatt, 8, and Logan, 7, and their friend Brianna Rygiel, 9, took the #trashtag challenge, joining children and adults worldwide in the effort that's gone viral in the past couple of weeks. The Freedom kids are among the first in the county to participate.
Outdoor gear maker UCO Gear started the #trashtag challenge in 2015, but an Arizona man lit a fuse to it earlier this month with a Facebook post.
"Here is a new #challenge for all you bored teens. Take a photo of an area that needs some cleaning or maintenance, then take a photo after you have done something about it, and post it," he wrote.
Alexa, Wyatt, Logan and Brianna chose a nearby area where an abandoned house sits at the corner of Sixth Avenue and 11th Street. Various garbage had accumulated there over time.
Alexa took a before picture of the other kids at the littered site. The children filled four large trash bags provided by Dad Dan DeLucey. Then came the second picture of the proud kids flashing thumbs up in the cleaned-up area.
DeLucey was obviously proud of their work, "and the kids felt really, really good about doing it," he said. "It's just so nice and easy going out and picking up some trash and improving the neighborhood."
"I got really happy. It felt really nice to do it too," Alexa said. "I hope people who see this all start doing this too cause it really helped the community. … Yeah, it was really nice to do that for everybody."
Alexa said the family also has gone "magnet fishing" at Buttermilk Falls in Homewood, using magnets to collect garbage from the water.
DeLucey said he also has been inspired by fellow Freedom resident Matt Hogue, who has been picking up garbage himself and is working to create volunteer cleanup crews around the borough.
BeaverCountian.com invites other county residents to share their #TrashTagChallenge pictures in the comments section below.