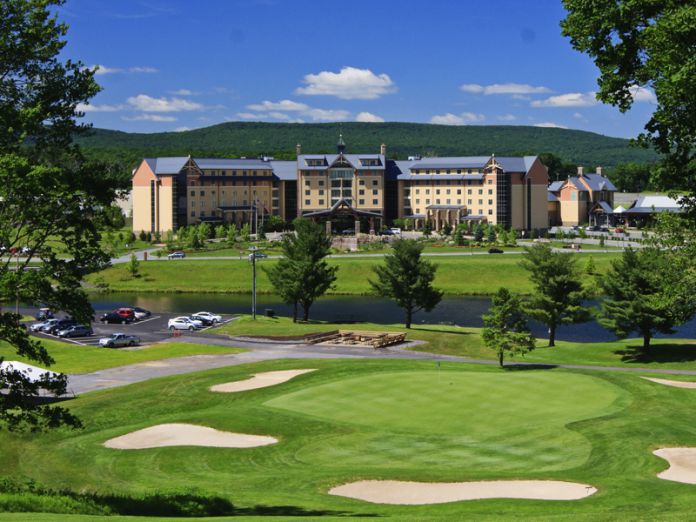 Mount Airy has issued the following press release announcing the building of a casino in Beaver County:
Mount Pocono, PA (Aug. 6, 2018) – Mount Airy Casino Resort, Pennsylvania's first AAA Four-Diamond casino resort, announced today the expansion of its customer-focused luxury brand into the Pittsburgh and tri-state market.
The owner of the state's only family-owned casino announced immediate plans for Mount Airy Pittsburgh, a casino and premier destination development, to break ground at the end of the year after the purchase of over 100 shovel-ready acres located conveniently off Interstate 376 and the PA Turnpike in Beaver County — less than 20 miles from Cranberry, Sewickley and the Ohio state line.
"We're thrilled to bring our four-diamond customer service, high quality entertainment and luxurious amenities to Beaver County and the surrounding communities, while contributing a positive lasting impact on the local economy," said Lisa DeNaples, owner and managing trustee of Mount Airy Casino Resort in the Poconos, whose development has helped to spur more than $2 billion in economic activity in the surrounding area. "For over a decade, Mount Airy Casino Resort in the Poconos has paved the way as one of the nation's most dynamic, upscale destination casino resorts. Our thoughtful expansion into the Pittsburgh and tri-state area represents a huge milestone in our effort to do what we live and breathe every day: provide award-winning customer service and luxury amenities to more people."
At its anticipated grand opening in late 2019, the Mount Airy Pittsburgh's 750 slot machines, 30 table games and high limit area will be accompanied by its famed buffet, which was voted "best of gaming" by the readers of Casino Player Magazine.
The entire property, including its sports bar will be designed by the world-renowned Friedmutter Group, known for its work at The Cosmopolitan resort in Las Vegas. Future phase II development plans include a full-service resort hotel, convention center, fine dining restaurant, pool, spa and salon and other destination-focused amenities.
"We envision the casino as just the start of building something truly special for the tri-state area," said DeNaples. "Imagine not just a casino, but a destination that raises industry-wide expectations and standards – serving as a phenomenal gathering space for celebrations and live entertainment and bringing upwards of 700 jobs to regional residents."
Mount Airy Casino Resort embarks on this new exciting chapter following its winning auction bid in February 2018 for a coveted Category 4 casino license.
"This is an exciting time of economic development in Beaver County that will be further spurred by Mount Airy's new investment," said Daniel Camp III, chairman of Beaver County Commissioners. "I welcome the economic growth and entertainment options this will bring not only to the citizens of Beaver County, but to those in neighboring regions. After working with the Mount Airy management team for the past several months, I know they will be great partners for Beaver County and Big Beaver Borough."
Mt. Airy supports local initiatives near its Poconos property and has invested over $1 million back into the local community. DeNaples expressed her enthusiasm for community engagement opportunities within the Pittsburgh region.
"I want to thank the elected leaders in the Beaver County area for their enthusiasm and partnership. We're excited to engage with community leaders and residents right away. Our goal is to become meaningfully engrained within the community through robust job training opportunities and the support of local initiatives."
See Also:
– In-Depth: Veon Attends Private Meeting About Possible Beaver County Casino – Faces Deposition About A Prior Failed Casino Venture
– In-Depth: Beaver County Officials Remain Mum On Casino Meetings – Butler Officials Refused To Sign Nondisclosure Agreements
– Investigative Report: Camp & Amadio Signed Nondisclosure Agreements – Met Privately With Veon & DeNaples About Casino Project