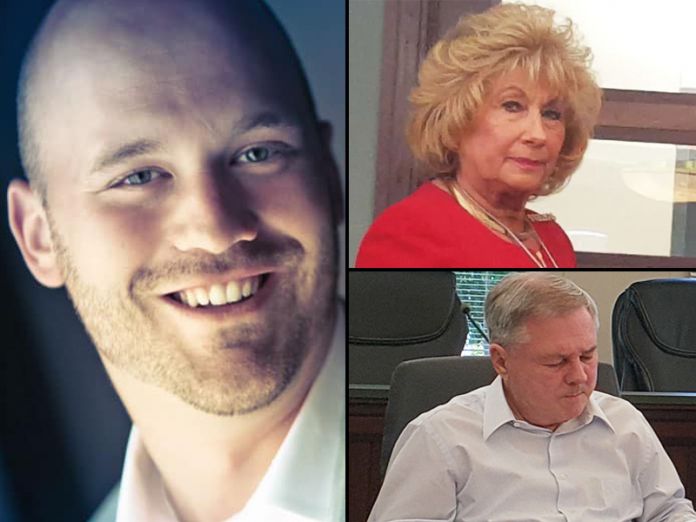 The Beaver County Pension Board made a surprise vote last week to move $10 million in public pension monies to an investment management company run in part by a prominent former Democratic official.
The matter was not listed on a formal agenda for the pension board meeting, the board had not seen a presentation about the potential investment in over two years, an outside advisor had initially warned against the move, and the management company in question was recently acquired by a Hong Kong-based firm that has never been vetted by county officials.
The county's pension board is comprised of the three county commissioners along with the county treasurer and controller, as mandated by state law. The board distributes an agenda ahead of each meeting which is set by Republican Commissioner Dan Camp in his role as Chairman.
But it was Camp who deviated from his own agenda during the September 25 meeting of the pension board to recognize George F. Matta of Fusion Capital.
Before joining Fusion, Matta had spent over 20 years working as an elected Democratic official outside of Beaver County, in roles that included serving as City of Duquesne Controller, two terms as City of Duquesne Mayor and two terms as Allegheny County Clerk of Courts.
According to official meeting minutes, Fusion had made a presentation to the pension board back in August 2016, but the board took no action at the time to invest in the group.
The county's pension board operates under the guidance of Frank Burnette, who works as a senior consultant with the Pittsburgh-based Morrison Fiduciary Advisors. An email obtained by BeaverCountian.com that had been sent by Burnette on August 14, 2016 to the voting members of the pension board expressed concern about the county moving forward with an investment in Fusion.
"George Matta of Fusion Capital proposed a foreign bond portfolio with a competitive fee schedule but with a limited investment performance track record and a very limited current assets under management for this product."
Burnette went on to write that the proposal is "not what this Consultant would propose to the Board at this time."
But Burnette expressed no opinion about the investment when it came up again unexpectedly during last week's pension board meeting.
After being formally recognized at the meeting by Camp, Matta spoke for just seconds before Democratic Treasurer Connie Javens made a formal motion to invest.
"Well, since we've already heard their presentation I would like to make a motion to award them $10 million," said Javens.
The meeting was taped by a secretary for the pension board who placed a recorder in front of Camp; she later uses the audio to generate formal meeting minutes. The recording was subsequently obtained by BeaverCountian.com and reveals that after this point in the meeting, Camp began whispering quietly to Democratic Commissioner Tony Amadio about how he should proceed.
"Should I ask for a second and then discuss it," whispered Camp. "Ya," Amadio replied. "Ok," Camp whispered back.
Caught off guard that the matter was being discussed at all, Republican Commissioner Sandie Egley responded back to Javens.
"How did you come up with $10 million?"
Javens gave a matter-of-fact reply, "Well, we usually do give $5 or $10 million, we have ample amount there so why not, if they're going to be a good income, why not."
Soon after, Camp can be heard seconding the motion to move $10 million to Fusion, and the very brief discussion continued.
Democratic Controller David Rossi asked if the investment includes moving pension funds into "emerging markets."
"You are clearly going to have emerging markets and developed market debt," said Burnett. "Now, you get a big yield to do that sort of stuff, but obviously there is an additional risk-reward than we're used to with this portfolio."
"I have to review this again, just for me, I can't recollect," said Rossi. "I need to go through their file again."
Burnett asked Fusion if they brought a presentation book with them that Rossi could look at. They did not.
Camp called for a vote.
Despite the concerns expressed by Egley and Rossi the vote went forward with Javens, Camp, and Amadio voting to approve the $10 million investment. The motion passed with Egley and Rossi voting no.
The entire exchange about an investment in the non-agenda item lasted under 7 minutes from initial discussion to final passage.
BeaverCountian.com questioned the Board of Commissioners about their deviations from formal agendas during a public work session meeting the next day, September 26.
Beaver County Chief Solicitor Garen Fedeles said the prior day's vote by the pension board came after a "presentation" by Fusion.
"I think yesterday there was a presentation that came up at the pension board meeting, and that ultimately led to that motion being made," said Fedeles.
BeaverCountian.com asked if the "presentation" was on the agenda.
"I don't believe it was," said Fedeles, who went on to note the actions taken by the board were lawful. "There is certainly a legal ability for motions to be made from the floor and an item to come up at a meeting to warrant discussion and that is what happened yesterday."
Under the Pennsylvania Sunshine Act, governmental bodies are under no obligation to follow their own published agendas, although there is legislation pending in the state capital proposed by State Representative Jim Christiana which would have made the surprise investment vote unlawful.
When pressed again by BeaverCountian.com if the Board of Commissioners would make a commitment to the public that they can rely on agendas put forward by the board, Fedeles hedged.
"I can speak on behalf of the board that we are going to continue to follow what the law dictates that we do."
George Matta's name recently arose in connection with a public controversy in Westmoreland County.
In July, Pennsylvania Auditor General Eugene DePasquale determined that the City of Monessen had not followed state law and city procurement procedures last year when selecting a new investment firm to manage its pension plans. George Matta's Fusion Investment Group won the Monessen contract, while his brother Gary Matta worked as a partner in the law firm which served as solicitor during the bidding process, according to reporting by the Pittsburgh Tribune Review. Another attorney with the firm countered that Gary Matta had no involvement in the process and was precluded from seeing the documents related to the bid.
DePasquale determined that Monessen had failed to keep proper documentation, including any meeting minutes, throughout the process.
Listen To BeaverCountian.com Question Commissioners About Their $10 Million Non-Agenda Item Vote: