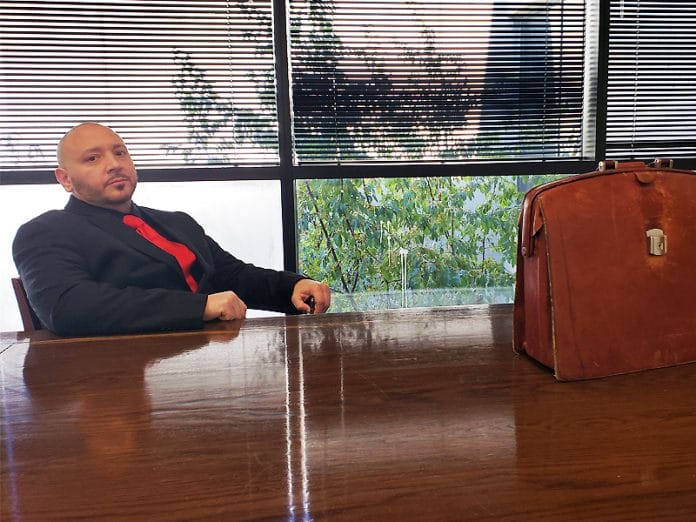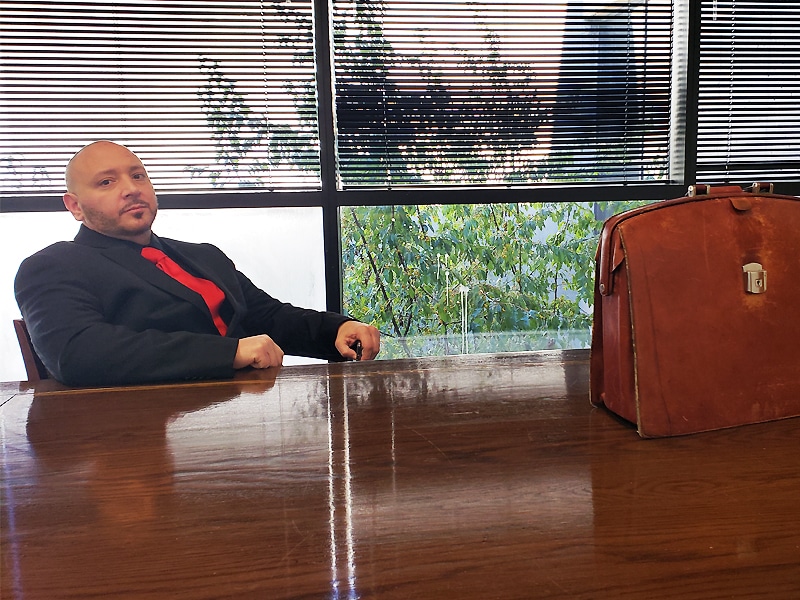 Beaver County District Attorney David Lozier had just taken office in 2016 when he was quietly approached by Aliquippa Assistant Police Chief Joseph Perciavalle.
There is institutionalized corruption in Aliquippa, Perciavalle alleged. Officials are fleecing taxpayer money; drug dealers are shaken down and given safe haven; beatings are being used as tools of intimidation, he continued.
Now more than two years later, the only public official in Aliquippa to face criminal charges by the DA's office is Joseph Perciavalle himself.
Perciavalle alleges his arrests this summer by county detectives were acts of retaliation for coming forward, an attempt to smear and discredit him, and an effort to render him worthless as a witness for state police and the FBI who are actively investigating public corruption in Beaver County.
Perciavalle provided BeaverCountian.com a string of text messages between himself and the DA to bolster his claims. He said he also gave Lozier a box of evidence.
Other current and former city officers, on and off the record, have backed Perciavalle's assertions. The family of a fellow officer's daughter who was allegedly victimized by Perciavalle say they stand by him.
Lozier denied accusations his office filed charges against Perciavalle as any kind of retaliation, but he confirmed the authenticity of the text messages.
Lozier also acknowledged that Perciavalle had been in private communications with him concerning allegations of Aliquippa corruption.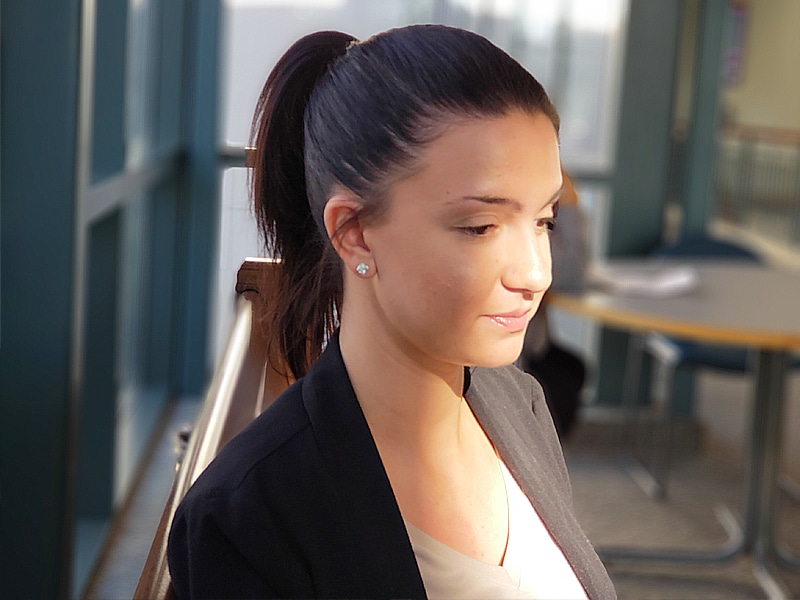 Perciavalle's alleged crimes
Perciavalle has been on paid leave from the Aliquippa Police Department since June when detectives filed felony charges against him for texting an explicit video to Lauren Watkins, the then-17 year-old daughter of Aliquippa Police Sgt. Ken Watkins.
County detectives discovered the short clip of a woman – nude from the waist down and urinating while moving to and fro on a swing – when searching Lauren's cellphone as part of the investigation into the high-profile Mother's Day murder of Aliquippa resident Rachael DelTondo.
Perciavalle's arrest came just two days after he was named Aliquippa's acting police chief on June 6. Chief Donald Couch had been placed on paid leave after Councilman Matthew Mottes claimed first-hand information that Couch was a target of investigation by state police.
Couch remains on full paid leave and has since taken on a job at Lowe's Home Improvement in Center Township.
Perciavalle claims the texted video was a funny, although admittedly distasteful, meme widely disseminated on the Internet. He insists he meant to send it just to other department officers, but it accidentally was sent to Lauren as part of a group text.
After county detectives seized Perciavalle's phone following his arrest, they filed a second round of felony charges against him a month later after discovering an audio file of a conversation he had secretly recorded with Chief Couch. Pennsylvania is a two-party consent state, requiring permission of all participants in a conversation before it can be recorded in scenarios where there is an expectation of privacy.
Perciavalle said the recording he made of Couch did not violate provisions of the state's Wiretap Act because it was made in a public place while the chief was in uniform and on duty.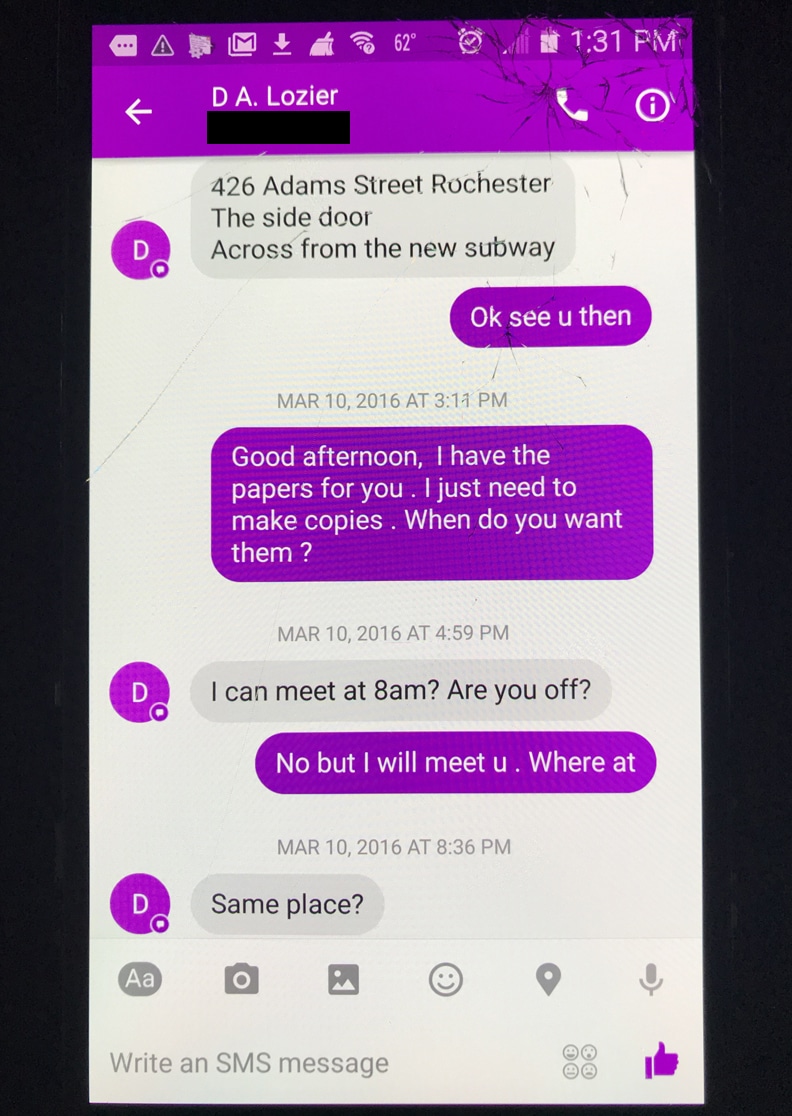 Perciavalle and the DA's texts
The text messages between Perciavalle and the DA are from 2016, spanning the months of March through November. They show Perciavalle reaching out to Lozier and wanting a meeting about issues in Aliquippa.
"I can get into an office in Rochester. How about 6:00 Wednesday March 9," Lozier wrote to the officer. "426 Adams Street Rochester. The side door. Across from the new subway."
Perciavalle thought the location was strange, but he went along with it. The address is the then-headquarters of the Beaver County Republican Party.
"He didn't want to meet at the courthouse because he said he didn't want anybody to see us," Perciavalle told BeaverCountian.com
Perciavalle said the pair met alone and he handed Lozier a box of evidence, including signed statements by police officers and independent witnesses, along with internal city documents.
The text messages show Perciavalle and Lozier met a second time days later and the officer handed over additional evidence. Lozier acknowledged to BeaverCountian.com he received the information.
Perciavalle sent another text message to Lozier on March 24, asking for a status update.
"Good Morning? I was wondering what the status is with that stuff and if you referred it to the (Attorney General's Office)."
Lozier responded to him that same day, "Went missing. You showed me those reports when we first met but they were not in the stack you gave me. I spoke with a very (high) agency head on this. I left a message for you last night, (I) thought I need the reports relating to one more case. The one in which I think he choked a suspect and then 1000. Have a plan."
Perciavalle answered, "Ok. You said you just wanted the beatings but I can give you whatever you want. I have everything. I never got the message."
"That one had both potential assault plus the missing funds," replied Lozier.
When BeaverCountian.com asked Lozier about the evidence provided to him alleging assaults and financial improprieties, he said his office did not handle the matters because Perciavalle had also given the information to other law enforcement agencies.
"The materials Assistant Chief Perciavalle gave me were of two types: allegations of improper police conduct and allegations of payroll issues," Lozier said.
"I told him a number of times that those payroll matters in Aliquippa could be fixed with internal policies. It wasn't corruption. I said to him go fix your policies. As for the allegations of police misconduct, those matters were generally older and were civil rights issues.
"Perciavalle had already given everything he gave me to the state attorney general, state police, and the federal government … That is the problem with giving information to the Pennsylvania State Police, Attorney General's Office, or the FBI, you never know if they are going to investigate it or not."
Perciavalle confirmed to BeaverCountian.com he had in fact gone to the Pennsylvania Attorney General's Office first, but it instructed him to contact Lozier.
"I didn't trust Lozier," said Perciavalle.
"The reason why I went to him is because when I went to the Attorney General's Office, they told me to go to him and have him write a letter referring the case to them. They didn't want any jurisdictional issue to come up. But when I went to Lozier, he wouldn't do it. He wouldn't write the letter. He told me he was going to handle it."
The text messages provided by Perciavalle seem to contradict Lozier's assertions about the FBI as well, with the district attorney appearing to lead the officer into believing that charges were forthcoming from his office.
Lozier specifically asked the officer not to provide information to the FBI because he said he was already dealing with federal officials.
Lozier sent a text message to Perciavalle on Aug. 2:
"DA Lozier here. Finishing I need a better copy of the citizen affidavits (…) One affidavit is illegible. And, anything new before we file."
Perciavalle said Lozier told him that arrests would be made soon.
"He told me he was going to file criminal charges against (two department officers). One of my scans of the witness statements came out blurry. I rescanned it and gave it to him. He told me he was going to proceed with the charges."
A text message from Lozier on Aug. 3 appears to back Perciavalle's claims.
"Thank. Then we are all set," Lozier wrote.
After some additional back-and-forth, Perciavalle messaged Lozier on Sept. 13, "I was just checking to see what the status is on our investigation."
He received no response from Lozier and sent another message on Sept. 16, telling him about an upcoming meeting he had with the FBI on unrelated matters.
"Good morning Mr. Lozier, I have a meeting with a few agents from the FBI at noon today. I was wondering where we (are) at with the investigation or should I bring it up in this meeting today," Perciavalle wrote.
It was then Lozier asked Perciavalle to hold back.
"I'm talking to their boss, I have talked to their boss, I'd rather you not but they are your files," Lozier replied.
Perciavalle responded, "Ok. Did (you) hand them over yet? What are they waiting for? I have been trying to get this done for over a year and a half. It gets to me sometimes."
Lozier did not answer. Perciavalle messaged him back again later in the day.
"I didn't mention anything about this investigation in the meeting I was in today. I really wanted to but I didn't. I am leaving it in your hands. I am just tired of waiting."
Lozier still did not respond. Perciavalle reached out to him again two months later from his same number.
"How are you Mr. Lozier, I would like to have a meeting with you whenever you have time. I need some advice with this ongoing problem that I'm having in my department."
This time, he finally got a response from Lozier.
"Sorry, I'm coming out of the woods from deer camp. Who is this?"
Perciavalle said the DA did not speak with him again about any of the evidence he had provided.
"He just quit talking to me. This paints its own picture," Perciavalle said.
Multiple sources independently confirmed that Perciavalle had then began assisting state police in their investigations into alleged Aliquippa and county government corruption when he was arrested by Lozier's detectives on June 8 of this year.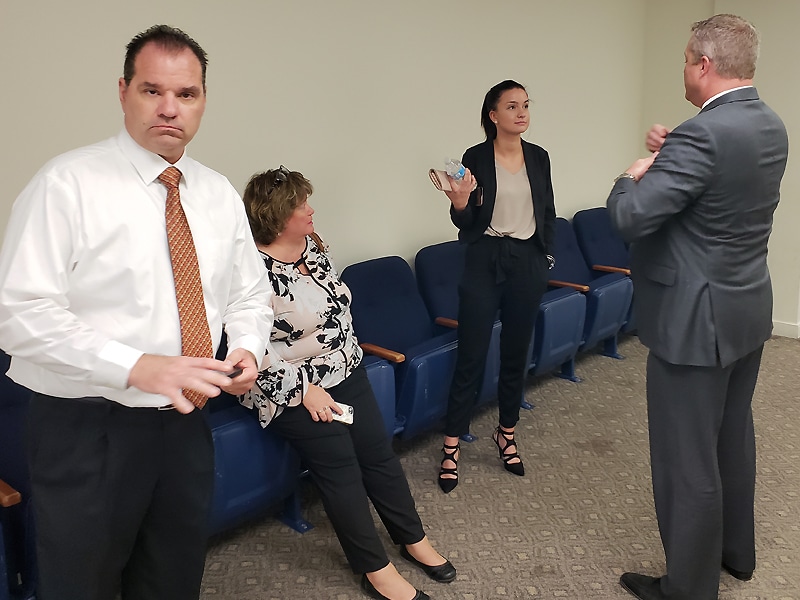 Watkins family stands by Perciavalle
A preliminary hearing on Perciavalle's charges was to be held at the courthouse on Oct. 23.
Although his hearing was ultimately continued until Dec. 4 because District Judge Janet Swihart recused herself, the day was not without significant developments.
BeaverCountian.com was given exclusive access to a private meeting held that morning between Perciavalle, his attorney Steven Townsend, Lauren Watkins, now 18, and her parents, Aliquippa Police Sgt. Ken Watkins and his wife Stephanie. At the meeting, the Watkins family offered to help support Perciavalle in his defense, expressing their belief that he never should have been charged with a crime for sending Lauren the video in question.
The Watkins family members were subpoenaed to testify by the DA's office as prosecution witnesses. But all three told BeaverCountian.com if they were called to the stand they would tell the judge that none of them are victims and all of them believe they are being used as pawns in a nefarious game.
"David Lozier has no idea what's going on in Beaver County," said Ken Watkins. "He has no clue. He's listening to what people are telling him and what they're telling him isn't good … He's being used as a fool."
Ken Watkins said he agrees with Perciavalle's assertions about systemic corruption in Aliquippa, its police department, and county government. He claims to have first-hand knowledge about many of Perciavalle's allegations, although he declined to go into specifics for this report.
Perciavalle and Ken Watkins are not the only two Aliquippa officers to come forward with corruption accusations.
On June 19, former Aliquippa patrolman Anthony Quinn alleged to BeaverCountian.com that some city officials were protecting known drug dealers.
"There is no doubt in my mind there are ties between the Aliquippa city government and drug rings, definitely," Quinn said at the time. "From when I worked there I have seen the evidence."
Ken Watkins said he is enraged by actions being taken by the DA's office.
"They are going after Perciavalle for one reason and one reason only, and that's to protect certain people in the department. To protect certain people in this building (the Beaver County Courthouse). They don't give a shit about my daughter," Ken said.
Ken just returned to work this month after being placed on paid leave for nearly five months by Couch following DelTondo's May 13 murder.
The Watkins family is close friends with the DelTondos. Lauren is a witness in the case as one of the last people to see DelTondo alive, and Couch expressed concerns that there could be appearances of impropriety by having Watkins active with the department as it investigated the woman's murder.
Current Acting Chief Robert Sealock, who took control of the department following Perciavalle's arrest, has since recused the entire Aliquippa Police Department from the case, leaving only Lozier's county detectives to pursue the matter.
Ken Watkins describes Perciavalle as a close friend who regularly communicated in group text messages with his entire family.
"Joe is like my younger brother," he said. "That message Perciavalle sent was in no way sexual and Joe sure as hell wasn't trying to have sex with my daughter … He came up to me the day after he sent the stupid clip of a woman pissing on a swing and apologized that it went to her.
"He meant to send it to me as a joke and accidentally sent it out to the group message that my daughter was on. This is stupid. There was nothing sexual about it … I have been a police officer for more than two decades and I've never seen anything this stupid in my entire life and that's saying something … I feel bad about what the district attorney's office is doing to him because it's not right."
Ken Watkins noted that several of the county detectives previously worked as Aliquippa Police Department officers, and alleged their ties to the agency were skewing the district attorney's office's handling of Perciavalle's case.
Perciavalle's attorney Steven Townsend told BeaverCountian.com he may call the Watkins family as defense witnesses if prosecutors back down from putting them on the stand in December.
"We have Lauren, a young woman who the district attorney's office claims is their victim, telling us she was coerced by county detectives into writing a statement (against Perciavalle) … That's a very big problem," Townsend said.
Lauren Watkins told BeaverCountian.com she is even more irate than her father about the charges filed against Perciavalle.
"I wasn't a victim until the county detectives came to my house and threatened to arrest my parents unless I wrote down a statement saying what they wanted me to say," she said. "They told me what to write and told me they would take my parents away in handcuffs if I didn't do it."
Ken and Stephanie Watkins told BeaverCountian.com that county detectives informed them they would be arrested on felony charges of failing to report that their daughter had received the message from Perciavalle unless they cooperated in his prosecution.
Both Ken and Stephanie Watkins are considered "mandatory reporters" under state law in their official capacities, with Ken being a police officer and Stephanie serving as a agent with the Pennsylvania Inspector General's Office.
But Townsend said an assistant district attorney told him that neither parent could be charged within the intent of the statutes in question.
The Waktins family also alleges it was placed under a "gag order" by the DA's office and told they would be arrested on the felony charges if they spoke with the press.
"We were also told that if we talked to (BeaverCountian.com investigative reporter) John Paul we would be arrested on those charges," said Ken Watkins, an assertion backed up by his wife.
"I don't give a shit anymore. Let them arrest me. What are they going to do, arrest everybody so they can keep hiding the truth?"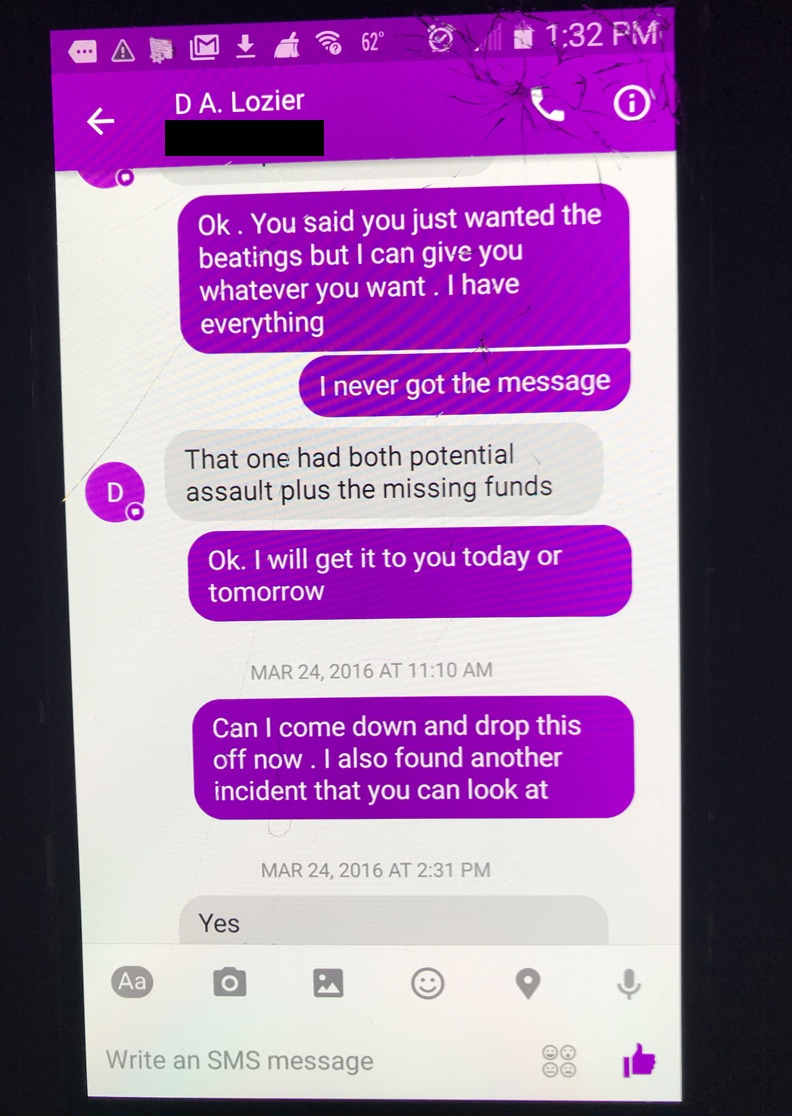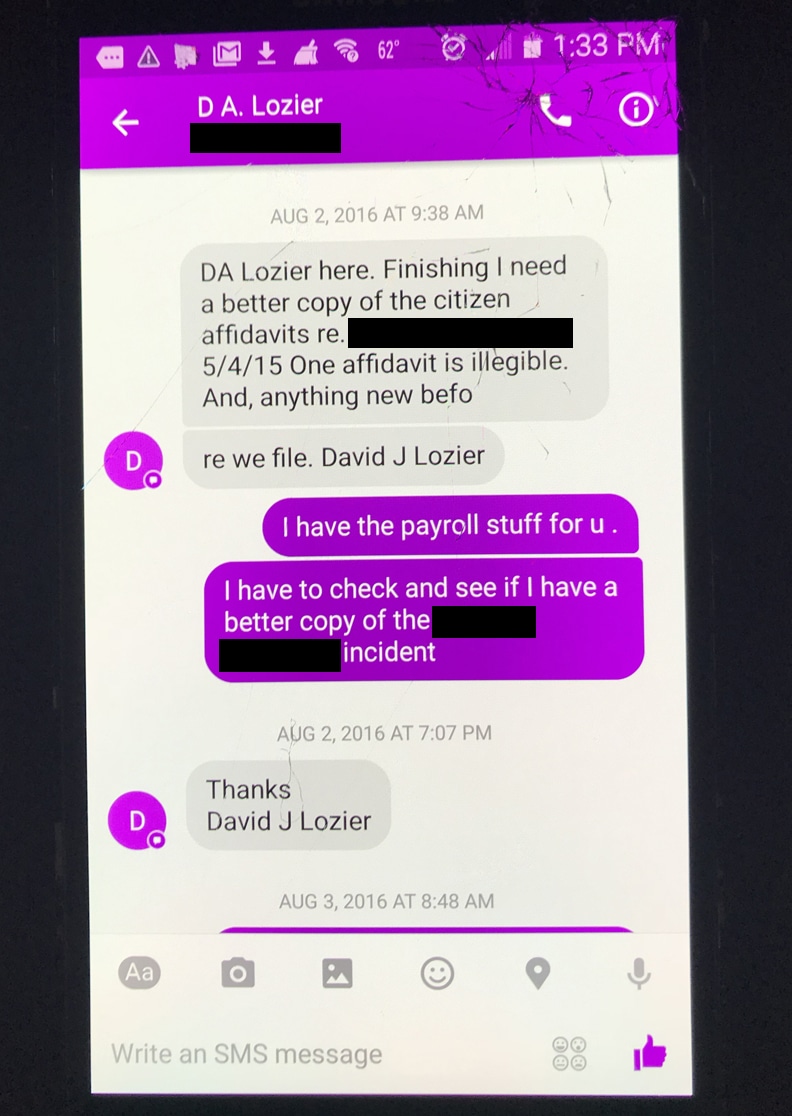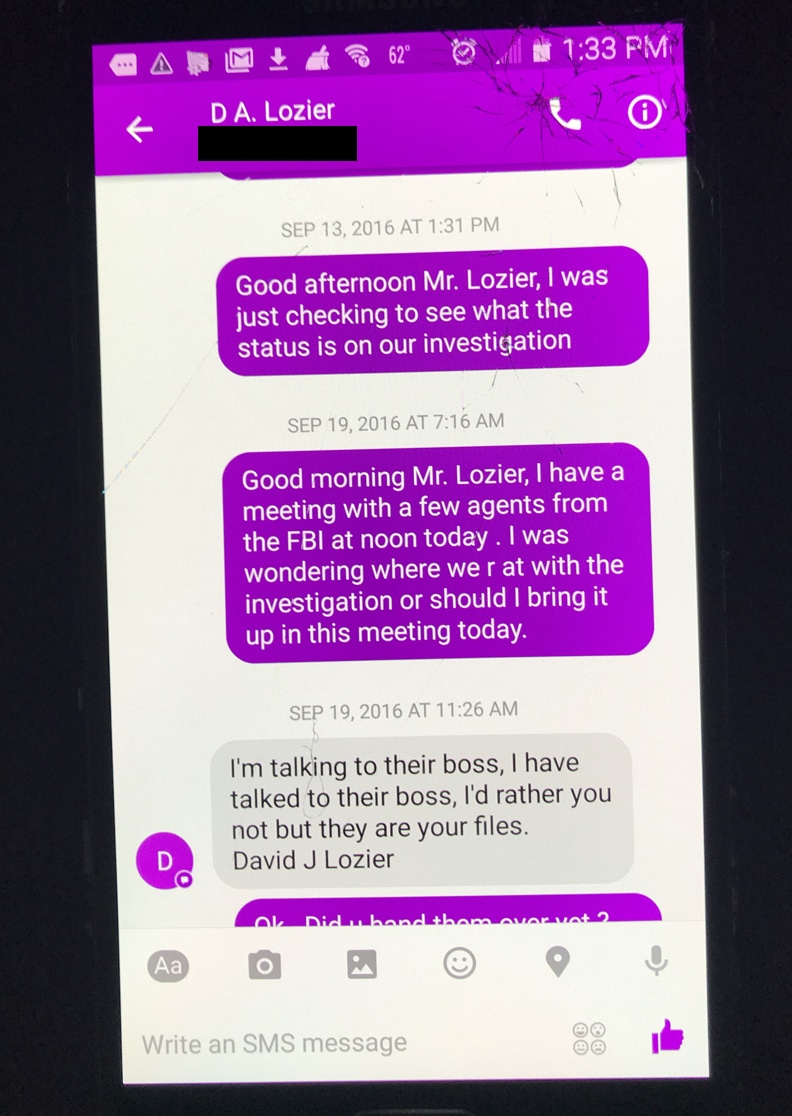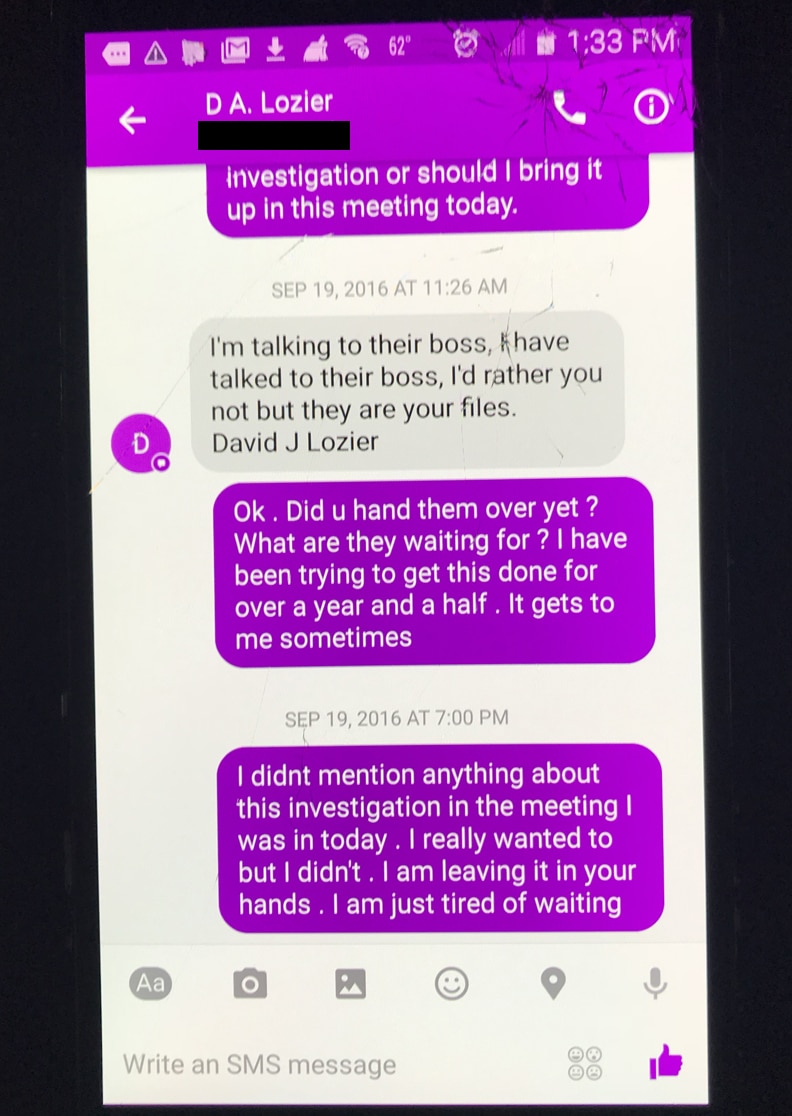 See Also:
– Acting Aliquippa Police Chief Joe Perciavalle Arrested By Beaver County Detectives
– EXCLUSIVE: Acting Aliquippa Chief Says Txt Msg Was An Accident – Calls His Arrest By DA's Office Retaliation
– County Detectives Arrest Aliquippa Assistant Police Chief Again – This Time For Alleged Wiretap Act Violation
– EXCLUSIVE: Former Aliquippa Patrolman Was Investigating Possible Departmental Ties To Drug Rings When Fired