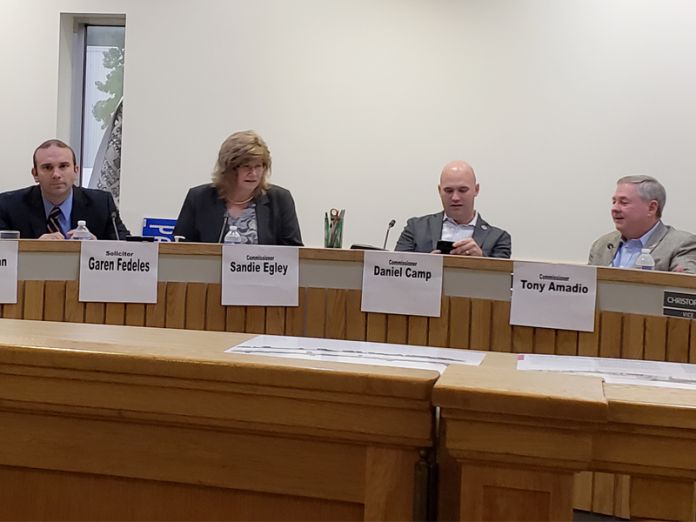 After weeks of controversy surrounding the selection of a new solicitor to represent Beaver County Children and Youth Services (CYS), county commissioners are expected to vote tomorrow to award contracts to two attorneys for the job.
Commissioners met in the Monaca Borough Building today for their worksession as part of an initiative to increase public participation in county government.
During a brief discussion of the CYS solicitorship contract, all three commissioners agreed to hire two attorneys at a maximum yearly budget of $75,000 each, rather than one attorney at $150,000 as originally planned. Commissioners determined the workload was too large for one person to handle alone, and want to prevent the contracted attorneys from subcontracting additional attorneys.
Commissioner Sandie Egley announced she will be voting for attorneys Dana Kwidis and Robert Alsko, the two lawyers originally recommended by CYS Director Dayna Revay. Commissioners Camp and Amadio did not make it known who they intend to vote for. The commissioners' voting meeting is set for Thursday at 10:00 am.
Commissioners are choosing between three finalists, including Kwidis, Alsko, and former chief county solicitor Joseph Askar. Askar is a close personal friend of both Camp and Amadio; politicos have said Askar has been acting as a de facto advisor to Camp since his election to the board.
Askar's name was added to a list of finalists after Camp met privately with Revay. He has had prior experience working with CYS.
Egley read from an email Director Revay sent the board on August 30 recommending attorneys Kwidis and Alsko for the position. Camp noted the email was sent prior to the board conducting interviews of the three finalist. Egley countered that Revay has known all three attorneys for years and has first hand experience working with each of them, downplaying the significance of sit down interviews.
Commissioners had continued a discussion about the solicitorship from last week until today so that Revay could be present to weigh in, although she was absent from today's meeting as well.
Egley said she had spoken to Revay, who no longer wanted to commit to making a recommendation beyond Kwidis.
"The sense I got from her is she doesn't want to be involved in politics," said Egley. "I mean in the politics of hiring."
Amadio responded, "It's because the pressure that people have placed on her."
Commissioners decided in August to not renew a long-standing contract the county had with attorney Robert Masters after it was revealed that, when serving as district attorney in 1964, he had terminated an investigation into a priest accused of child molestations.
From CYS Director Dayna Revay's letter to commissioners:
I truly think that Dana Kwidis is the right person for this position. She is passionate about working with children and families and fully understands the mission and vision of the agency. Dana has participated in the agency's Quality Services Review twice, has been on a few in-house committees to address our practices, attends agency events, completes extensive research, has been involved in Superior and Supreme Court appeals with our cases and has over 12 years of experience with dependency cases.
My second choice for the position would be Rob Alsko. He has also been involved in dependency proceedings for over 12 years and is passionate about his work with children and families. Rob has also been involved in agency initiatives regularly and does extensive legal research on cases. He has been actively involved in regional AOPC meetings with me and the Judge.
Both Dana and Rob come to the agency regularly to meet with caseworkers and consult with staff on specific cases or practice concerns. They are both active on the local Children's Roundtable and have done presentations to the local Bar Association on dependency related practice for attorney's. I think both are highly respected by the Court in Beaver County.

See Also:
– Beaver County CYS Solicitor Halted Investigations Into Accused Pedophile Priest When He Was District Attorney
– Commissioners Consider Hiring Attorney Joseph Askar As Solicitor For Beaver County Children And Youth Services
– LISTEN: Beaver Countian Pushes For Transparency In Commissioners' Contracting Of Solicitor For Children & Youth Services
– Amadio: "I Am Up To My Boiling Point" – BeaverCountian.com Again Seeks Transparency In Process To Replace CYS Solicitor