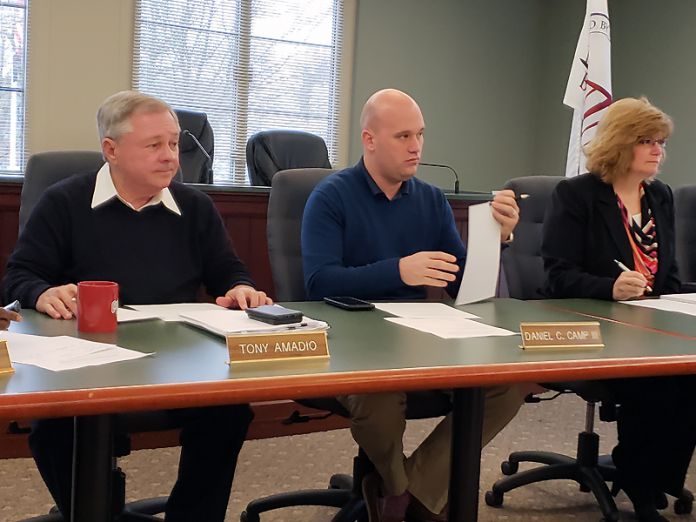 Beaver County commissioners have decided against hiring a chief of staff for the county, according to sources familiar with private discussions held following today's public meeting of the board.
County commissioners had spent months preparing to hire a chief of staff in response to recommendations made by independent analysts as part of a state-funded study into the county's deeply troubled finances. The county has been without a top manager acting under the board since Joe Weidner was fired by commissioners in October 2016.
Commissioners voted unanimously in September to create the position with an annual pay range of $50,000 to $80,000. The county publicly advertised the job and received fourteen applications in response.
Among those who had applied for the job was Jack Manning, who currently serves as president and executive director of the Beaver County Chamber of Commerce. Politicos have been telling BeaverCountian.com that Manning is exploring a run for commissioner on the Republican ticket next year, although he has made no formal statements about a possible candidacy.
According to two independent sources familiar with discussions held during an executive session today, Democratic Commissioner Tony Amadio notified his fellow commissioners that he has now decided against the county having a chief of staff. Republican Commissioner Dan Camp responded that he was not satisfied with any of the fourteen applicants and did not want to proceed with interviews, believing the county would be better served waiting until after the 2019 elections to fill the spot. Republican Commissioner Sandie Egley remained steadfast in her desire to fill the position, noting it was one of the top recommendations made by analysts.
With Amadio and Camp united against taking action to hire, the position will remain unfilled. The two commissioners have consistently been acting in unison since March, when the pair voted to remove Egley as Chairman and fire then-Financial Administrator Ricardo Luckow.
The Pennsylvania Department of Community and Economic Development awarded Beaver County a grant in 2017 as part of its Early Intervention Program, money used to fund an independent team of experts to examine the county's finances. Years of mismanagement by county officials have left the government's finances in dire straits, according to their report released in July.
Analysts determined hiring a chief of staff should be one of the commissioners' top priorities, saying the lack of a managerial leader was creating significant problems for the county, adversely affecting the budget and causing a failure to implement vital policy objectives.
"Beaver County is the only nearby County of the Fourth Class that does not have this position," analysts said in the report. "[T]here did not appear to be anyone responsible for prioritizing the different requests from the departments that report to the commissioners or reviewing them to see how they contribute as a whole toward financial or policy goals …
"[T]he county needs a stronger hand to force prioritization decisions, occasionally choosing one department's requests and need over another, to manage through the financial challenges ahead … It is always difficult to recommend that a government spend more money when the financial projections show a deficit, but this is a worthwhile investment. Large complicated organizations cannot function well without administrative leadership."
See Also:
– In-Depth: Analysts Make Recommendations To Mitigate County Government's Dire Financial Situation