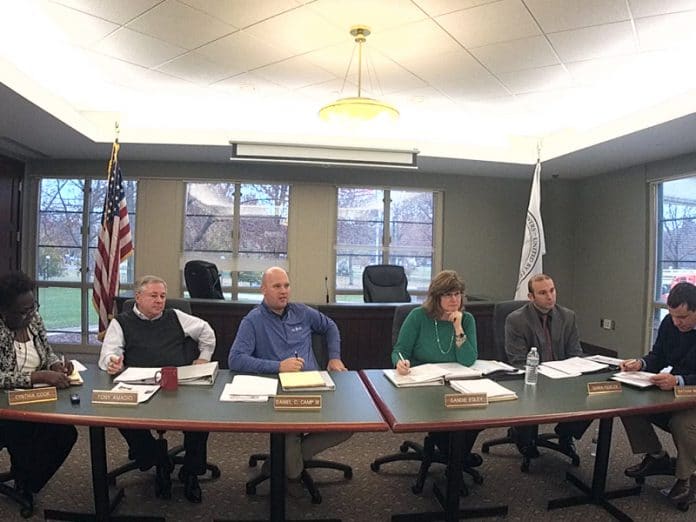 Beaver County Commissioners have decided next year's budget will delay a $1 million mandated contribution to the community college, eat up another $1 million left in county accounts from debt refinancing, forego the majority of all county-funded capital improvement projects, and will ignore every suggestion in a 133-page report issued this year by state-funded financial consultants.
Experts have issued dire warnings that Beaver County will be unable to remain solvent without major interventions taking place, but the Board is not planning any substantive actions next year to remediate the situation. Democratic Commissioner Tony Amadio and Republican Commissioner Dan Camp continue to publicly insist the county's finances are "healthy and stable."
Commissioners discussed the county's 2019 budget during their public work session held last Wednesday.
Despite multiple statements issued by independent financial firms, including the internationally-renown Standard & Poor's (S&P) and Public Financial Management Corporation (PFM), Commissioner Tony Amadio once again stated during Wednesday's meeting that he does not believe the county is in desperate straights.
"I don't want to argue about little minor details about the budget. I want to have a stable, viable budget for next year, like we had this year, and like we had the year before," said Amadio during Wednesday's meeting.
Analysts have explained in published reports that the county has been making it through recent budgetary years by "trading lower debt payments now for higher payments later," not investing in necessary capital improvement projects, and enacting double-digit tax increases.
Amadio became visibly agitated when BeaverCountian.com later pressed him about contradictory statements issued about the budget by outside experts.
"I'm done with you. I'm done," said Amadio. "It's the same story every year, every budget year. We're always in financial trouble, and yet every year we end up with enough money to pay the bills and we move on to the next budgetary year. It's just amazing. I'm not going to say any more."
Commissioner Camp, who has voted in unison with Amadio this year, remained silent.
Taxpayers lost an estimated $1.2 million in 2017 after S&P downgraded the county's credit rating due to "persistent deficits." The proposed 2019 budget will once again be structurally imbalanced, which could have significant financial consequences if the county needs to secure additional debt bonds to finance major expenditures, such as a county-wide reassessment which could cost upwards of $10 million.
Problems caused by a lack of investment in infrastructure have continuously demonstrated themselves during weekly meetings of the Board. During last week's meeting, Beaver County Public Works Director Dan Colville notified Commissioners that the courthouse roof was once again leaking.
"We have another pretty severe leak on the roof here at the courthouse. It is actually in the secure hallway in the courts … it is leaking on a junction box," said Colville.
"As you know, we have major issues up there. I got bids and quotes to do just spot repairs throughout the whole courthouse, and I also got a bid to replace the entire roof. That's going to take some time to figure out where the money is coming from to do all that. But I strongly recommend we move to get this current leak right now addressed, it's leaking on a junction box."
As has happened repeatedly throughout the year, Commissioner Camp asked that the repairs be considered an emergency because there was not enough time to go through a normal bidding process that helps achieve the best rates for taxpayers. Director Colville said he would need to move around funds from his capital improvement budget to come up with the $3,600 necessary to patch the one leak.
There was no discussion about how to rectify the larger problems with the roof.
As part of an effort to "balance" next year's budget, Commissioners Camp and Amadio agreed to delay payment of $1 million in mandated subsidies to CCBC from 2019 to 2020 — a year when the county's debt service payments will be substantially higher than they are now.
County Financial Administrator Corey Troutman said CCBC was agreeable to the delayed payment. "We have had discussions. There is going to be a small interest cost, they'll have to be outstanding on their line of credit, but in comparison to the funds that it will create in the (county's general) budget it's minimal."
Republican Commissioner Sandie Egley said she has been trying to help alleviate stresses on the county's budget by implementing suggestions made by outside financial analysts, but has gotten no support from Amadio and Camp.
"When I was removed as Chair we went a completely different direction," said Egley. "I can see where that direction is, it's non-transparency. There is no transparency at all … I am fighting to get these things done, but the majority of the Board is saying no. I am trying to pass as many of these objectives as I can, but you both sat here and said no."
Egley used as an example the suggestion made by experts to hire a Chief of Staff to help the county navigate its budgetary problems, a proposal rejected by Amadio and Camp in October.
"I said no to a chief executive position that was going to cost us $90,000 plus $30,000 in benefits," explained Amadio. "That's what I said no to."
Egley fired back.
"We have nobody overlooking the overtime of the sheriff, the jail, and the district attorney. That was over $1.4 million this year. There is nobody overlooking that. That salary would pay for that ten-fold, but we don't have a chief of staff to do those types of things."
Camp remained silent on the subject.
County Commissioners are scheduled to discuss their proposed 2019 budget again at their work session next Wednesday, November 28, at 10:00 a.m. in the public meeting room of the courthouse.
Watch Financial Administrator Corey Troutman discuss the budget with Commissioners:
See Also:
– In-Depth: Analysts Make Recommendations To Mitigate County Government's Dire Financial Situation