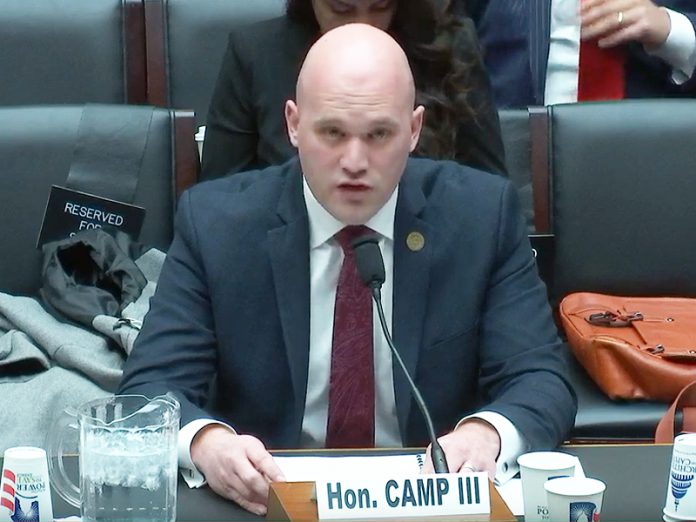 Listen To This Article:
Republican Commissioner Dan Camp testified before a Congressional Energy & Commerce subcommittee today as part of a panel discussion on the ways local governments are dealing with the climate crisis. Camp's prepared opening remarks, which did not actually address the issue of climate change, were in large part copied directly from a video created by the Beaver County Chamber of Commerce without any attribution.
Camp told BeaverCountian.com he had no idea that anything he said in front of Congress was not original, but a county official who helped him craft the speech insists the commissioner knew exactly what he was doing.
Politicos who spoke to BeaverCountian.com on the condition they not be quoted by name say Camp's appearance before Congress was arranged by Jim Christiana, a former state representative who is now a partner in the m:7 Agency, a public relations and marketing firm hired by Camp's re-election campaign. Although Christiana set the stage for Camp's appearance he did not write the commissioner's script, which was penned in part by Beaver County Chief Solicitor Garen Fedeles.
Beaver County Chamber of Commerce President Jack Manning unveiled the promotional video created by his organization on Feb. 5 during a State of The County event it sponsored. Commissioners Camp, Sandie Egley, and Tony Amadio all spoke during the event and watched as the video was projected on a large screen in front of a crowd of local business owners and community leaders.
A transcript of the Beaver County Chamber of Commerce's video reads in part:
"Throughout most of the 20th century, Beaver County and its steel mills were the erector set for the U.S. and the world. Our hand-prints are on the design and manufacture of the great highways, bridges, skylines, and icons in our great nation. …
Beaver County rode a wave of economic growth throughout most of the 20th century until our good fortune came tumbling down in an instant. In the early 80's American steel turned its back on Beaver County and our river towns took a deep dive. Mills were shuttered, unemployment peaked, and churches closed their doors. But we persevered. Like a beautiful old structure, we knew we had the bones for an extraordinary restoration. … We partnered to build the engine that will fuel the nation, with an investment measured in the billions, and that's just the beginning."
Camp's prepared testimony before Congress today contained strikingly similar language:
"Throughout most of the 20th century Beaver County and its steel mills laid the foundation for the United States and the world. We designed, manufactured, and produced steel used in bridges, sky lines, and icons throughout our great nation.
Beaver County rode a wave of economic growth throughout most of the 20th century. In the 1980's, however, our good fortune came tumbling down. American steel turned its back on Beaver County; mills shut down and unemployment peaked, but, we persevered. We knew we had a foundation for a great restoration, and today energy drives our economy. With an investment measured in the billions, we partnered with an engine that will fuel the nation."
Manning told BeaverCountian.com he was contacted by other individuals who noticed the similarities in Camp's testimony to the Chamber's promotional video.
"The script for our video was 98% written by Tad Makowiecki of Rhino Productions," said Manning, who was also personally involved in every stage of the video's production.
Manning is running as a Republican for commissioner in this year's county elections.
"We created this as a service to the county, to hopefully generate some pride in our community and to attract business to the area. We told all of our Chamber members to share the video as far and wide on social media as they could. … We didn't expect it to be used this way though."
When reached by BeaverCountian.com shortly after testifying, Camp insisted he did not know he had repeated someone else's words.
"I didn't realize that's where it came from."
But Fedeles directly contradicted Camp's assertions in a written statement to BeaverCountian.com.
"He was asked to go before Congress in order to discuss Beaver County and the energy sector's effects on economics in the area. As we were collaborating on the contents of the speech, we believed the Chamber of Commerce had a great message that he believes in, and thought parts of the message would fit nicely into what he was going to present to members of Congress."
Fedeles crafted Camp's remarks without notifying Egley or Amadio he had been tasked with the job. Camp did not notify his fellow commissioners he would be testifying before Congress in his official capacity until yesterday, after already arranging for travel to Washington, D.C.
"I was surprised to hear that Congress wanted to know what Dan Camp thinks," said Egley. "Now that Dan told them what he thinks, we find out they weren't even this own thoughts."
Egley said she does not believe it was appropriate for Camp to have Fedeles write his Congressional testimony.
"Dan is one member of a three person board, he is not a chief executive like Allegheny County has. When one of us testifies on behalf of the county we should be sharing the consensus view of the Board. Garen Fedeles does not work for Dan Camp, Garen works for the people of Beaver County. If he wanted to be a lobbyist he should have applied to work at a lobbying firm. This whole crossing of the political boundary is becoming too commonplace here anymore."
Camp was the only panelist who did not address the issue of climate change in his prepared remarks, which was the subject of the Congressional hearing. Instead, his testimony focused largely on the economic benefits of the Marcellus Shale industry.
Amadio could not be reached for comment.