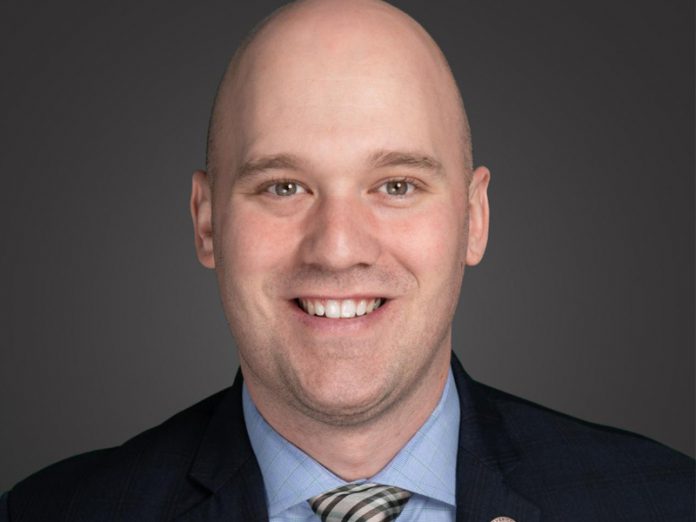 Listen To This Article:
Beaver County Commissioner Dan Camp is scheduled to fly to Washington, D.C., on Tuesday to testify in front of a House Congressional Energy & Commerce subcommittee.
Camp's testimony will be given during a hearing of the committee titled, "Lessons from across the nation: State and local action to combat climate change."
Others testifying will be Governor Jay Inslee of Washington, Mayor Steve Benjamin of Columbia, South Carolina, Mayor Jackie Biskupski of Salt Lake City, Utah, Mayor James Brainard of Carmel, Indiana, and Mayor Jerry Morales of Midland, Texas.
Although Camp is testifying in his official capacity as Beaver County Chairman, Commissioners Sandie Egley and Tony Amadio were not informed until this afternoon that he had scheduled travel to D.C. on official business.
Congressional Democrats have described the purpose of the hearing as an effort to understand "how state and local leaders are responding to the climate crisis in the wake of President Trump's intent to withdraw from the Paris Climate Agreement."
Camp, a Republican, was invited to testify by fellow Republican minority members of the committee who are in favor of President Trump's withdrawal from the climate change accord. He prepared his written testimony with the help of Chief County Solicitor Garen Fedeles, but did not give copies of his remarks to his fellow commissioners for review.
BeaverCountian.com has obtained a copy of Camp's prepared testimony as provided in advance to Congressional staffers, and is publishing it below as written.
Camp's testimony speaks extensively of investments in the county by Shell Chemical, which has issued public statements in strong support of the Paris Climate Agreement.
House Committee on Energy and Commerce's Subcommittee on Environment and Climate Change
Lessons from Across the Nation: State and Local Action to Combat Climate Change
Testimony of Daniel C. Camp III
Thank you Chairman Tonko, Ranking Member Shimkus, and Members of the subcommittee for inviting me to speak on behalf of Beaver County Pennsylvania. It is an honor to be here in front of you today. My name is Daniel Camp, and I am the chairman of the Beaver County Board of Commissioners. Of the 67 counties in the great Commonwealth of Pennsylvania, I am currently the youngest county chairman, and I sit on the Natural Gas Task Force Committee for the County Commissioner Association of Pennsylvania.
About 25 miles northwest of Pittsburgh, Beaver County Pennsylvania sits alongside the most northern part of the Ohio River and has approximately 168,000 residents. Throughout most of the 20th century Beaver County and its steel mills laid the foundation for the United States and the world. We designed, manufactured, and produced steel used in bridges, sky lines, and icons throughout our great nation.
Beaver County rode a wave of economic growth throughout most of the 20th century. In the 1980's, however, our good fortune came tumbling down. American steel turned its back on Beaver County; mills shut down and unemployment peaked, but, we persevered. We knew we had a foundation for a great restoration, and today energy drives our economy. With an investment measured in the billions, we partnered with an engine that will fuel the nation. In Beaver County we are proud of our past, but we are also confident in
our energy future.
The current energy boom in Beaver County started with the Marcellus Shale. Approximately 10 years ago, Beaver County started to see the effects of technological advancements that made developing the Marcellus Shale possible. In addition to the billions of dollars in bonus and royalty payments to Pennsylvanians who leased their property for natural gas extraction, in 2012, the Pennsylvania General Assembly imposed a special tax on the industry, an "impact fee," which is paid annually by unconventional natural gas producers for each well drilled. In its 2018 report, Beaver County received approximately $500,000 from this impact fee, which was an increase of about $160,000 over the prior year. In addition, the County's 54 municipalities received a combined $618,000, nearly double the amount of the year before. All told, between allocations to the county, municipalities and impact fee-funded project grants, Beaver County has received $5 million for use in public infrastructure improvements, emergency preparedness and response, environmental protection, social services, parks and green spaces and tax reduction.
In 2016, Shell Chemical Appalachia announced it would build a petrochemical complex in Beaver County that would use low-cost ethane being produced in the Marcellus and Utica formations to produce 3.5 billion pounds of polyethylene per year, creating a foundation for regional manufacturing — pharmaceutical, industrial chemical, and plastic. Indeed, from life-saving medication and medical equipment to the cells phones we use every day, plastics sourced in plays like the Marcellus enhance our quality of life and make our modern world possible.
Shell's decision to build this complex in Beaver County was a major coup for not only Beaver County, but the entire region. At its peak, 6,000 construction jobs will be necessary to build the complex, and once operational, it will support approximately 600 permanent jobs. While a definite opening date has not been made public, the anticipation is it will be operational within the next 2-3 years.
The construction of this complex has been a major boon for Beaver County. There are currently 3,700 workers on site, and the impact on our regional skilled labor workforce has been incredible. The site currently supports hundreds of electricians, pipefitters, ironworkers, carpenters, laborers, equipment operators, and other craftsmen. Many of these workers travel from out of the area to work at the site and have therefore spurred the hotel industry in Beaver County. We now have 33 hotels within the County, many of which were built as a direct result of the influx of these workers who now spend their entertainment dollars locally, eat at local establishments, and otherwise have helped to revitalize local businesses.
Infrastructure has also improved in and around the construction site. New roads and repaving of existing roads are directly attributable to the cracker plant. An improved interchange with Interstate 376 was built to handle the additional traffic in the area. Additionally, a new water intake system was built for a local municipality because the plant was to be built where their water intake system was previously located.
Once the plant is operational, we anticipate additional growth in the manufacturing sector as our region becomes attractive for companies seeking to locate in close proximity to the abundant supply of polyethylene produced here in Beaver County. In turn, we hope to see expansion in the professional services that support it as well (e.g. engineering, architecture, etc.).
Beaver County has tremendous potential, and that potential stems in large part from the economic opportunity the Marcellus Shale presents. Without a doubt, our modern world is built on energy, and our future hinges on our ability to leverage our domestic energy resources to fuel our economy, grow manufacturing, employ America's labor workforce and continue to propel our country forward as a global leader. I am proud to represent a county that is integral to making this future possible. As you deliberate policy changes, I'm here to ask you to consider the monumental impact American shale gas development has had on our country and support this economic driver as vital to our shared future.
In closing, I want to thank you for the opportunity you have given me to come before you and speak today.