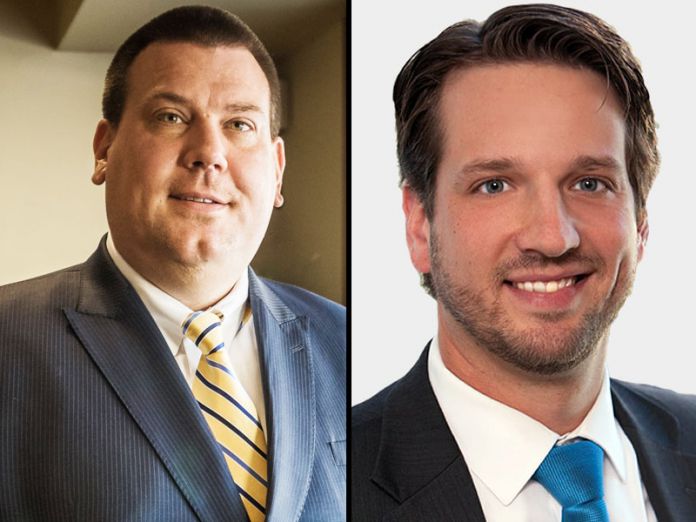 Attorney Gerald Benyo has announced he will not be a candidate for Beaver County district attorney in next year's county elections.
Benyo had been a candidate for district attorney in 2015, but was defeated in the Republican primary by David Lozier. Lozier went on to win the general election against Democratic challenger Frank Martocci.
Attorney Benyo changed his party to Democrat earlier this year, and in March began floating the possibility of running for district attorney again in 2019, with supporters making public statements on his behalf. Democrat Ted Knafelc announced his intentions to run for the office in a letter sent to BeaverCountian.com in August.
Lozier is expected to seek reelection on the Republican ticket.
So far, no other attorneys from either party have reached out to politicos to begin exploring a possible run. Benyo's decision against launching a candidacy could see both Knafelc and Lozier going unchallenged in the primaries, paving the way for what would likely be a greatly contested 2019 general election.
Attorney Benyo sent a letter to BeaverCountian.com laying out what he believes are the problems and challenges facing the Beaver County District Attorney's Office, and making clear he will not be seeking the seat.
Read Gerald Benyo's Letter In Full As Written For Publication By The Attorney:
Dear John Paul:
Beaver County will elect a District Attorney in November 2019. The position of District Attorney carries with it great responsibly and requires a commitment to dedicate oneself to upholding the criminal laws of the Commonwealth while at the same time protecting the Constitutional Rights of all citizens. A candidate for District Attorney should not be cultivating "close friends" to help themselves get elected as those "close friends" will expect favors that justice should not permit after the election. Nor should any candidate for District Attorney ally themselves with politicians who may be in elected positions that require present or future investigation. A candidate for District Attorney should have extensive criminal trial experience and have participated as lead counsel in hundreds of criminal hearings before the Court.
The candidate for District Attorney should commit to becoming a formidable and vocal force against corruption and self-dealing by those wielding political influence and power in the county. It is not only the "crime in the streets" that hurts the average citizen, but also the venal and unprincipled actions of elected officials and their confidants who enrich themselves, their friends and their families at the expense of every taxpayer and citizen each time a county job or contract is awarded based upon cronyism and not merit.
Beaver County needs a District Attorney who will not only prosecute average people who commit crimes but will also actively and forcefully investigate and prosecute county corruption and misdeeds by elected representatives and demand severe penalties to deter others from violating the public trust. There are to many instances in Beaver County where those who have spoken out and identified improper conduct and corruption have not been commended for their honesty and courage, but instead punished by those who wield political power and have a vested interest in maintaining the status quo.
It is also time that a District Attorney identifies those individuals in our communities who engage in repeated criminal conduct as a way of life and economic income. These individuals must be prosecuted and held accountable for their actions by requesting significant incarceration. At the same time a District Attorney must be able to identify people with mental health and addiction problems who demonstrate an actual desire not just to avoid criminal sanction, but to actually change their lives.
Addiction is not an excuse that should enable anyone to avoid responsibly for the harm caused by their criminal acts, and repeated criminal acts by individuals due to their addiction who only give insincere promises of change to avoid sanctions and responsibility for their crimes must no longer be permitted. Drug use is now comparable to playing Russian Roulette and offering politically safe platitudes and promises does not save lives, it only permits a serious societal problem to persist and continue to cause misery in untold numbers of families.
Beaver County also needs a District Attorney who understands that the perception and role of law enforcement has significantly changed from a decade ago. The next District Attorney needs to understand how society has changed its overall positive view of law enforcement and now accepts widespread and undeserved criticism of police action based upon false facts or isolated incidents. It is my hope the members of law enforcement in Beaver County speak out loudly and with a firm voice in the upcoming election about the problems they face on a daily basis inside and outside of the courthouse as these men and women are on the front line of maintaining order in our society and combating crime.
The next District Attorney must also address inefficiencies, injustices and inequities in our local criminal system and the District Attorney's Office. Having most of your assistant district attorneys waiting in the same courtroom for their cases to be called one-by-one for hours at a time significantly reduces available time for trial preparation and thus negatively effects criminal prosecutions. The practice of allowing the court administrator to call major criminal cases for Jury Trial with less than a 24-hour notice must end. Permitting a Central Court schedule that often eliminates most if not all of a police force from a community for half a day every week is dangerous and must also end.
The upcoming budget crisis looming in Beaver County will also require the next District Attorney to prosecute more cases with less resources and critical decisions must be made about the function and future of the Beaver County Detective Bureau. Funding law enforcement by pursuing forfeitures of citizen's property is also a dangerous practice that must be reviewed and considered moving forward – particularly when no public accounting of seized property is regularly provided by the District Attorney's Office.
The voters of Beaver County have an important job to do in November 2019 in electing their county officials. The application of partisan politics on national issues into county elections and maintaining party alliances based upon decades old outdated political stereotypes will fail to improve the quality of life in Beaver County.
Beaver County faces significant and unique local issues that must be addressed by experienced and dedicated individuals who put their own interests, party politics and cronyism aside for the good of the citizens of Beaver County. Candidates for public office must also know that they will be held accountable for their actions not only by forgetful voters every four years, but by the District Attorney's Office if illegal conduct occurs.
I am providing you with this letter not to announce my candidacy for District Attorney, but to provide my thoughts and views as an experienced criminal trial attorney, taxpayer, business owner and citizen of Beaver County as to what I believe the voters of Beaver County should consider in electing a District Attorney.
I have read and appreciated the repeated references by commenters of the BeaverCountian as to my becoming the next District Attorney. While I would welcome the challenge that being District Attorney would provide and am certain that I have the experience and fortitude to make positive change in Beaver County, at this time I cannot commit the time, energy and resources that being a serious candidate for District Attorney demands – particularly in view of my heartfelt beliefs stated above and the hostility that my views would generate from those who wish to maintain the status quo.
To allow my name to continue to be considered as a candidate will only serve as a distraction from voters evaluating the actual experience, qualities and positions of those candidates who will face off against each other in May and November. At this time, the best manner in which I can attempt to improve the criminal justice system in Beaver County and continue to protect the Constitutional Rights of citizens is from outside and not inside the District Attorney's Office.
Sincerely,
Gerald V. Benyo, Jr., Esq.