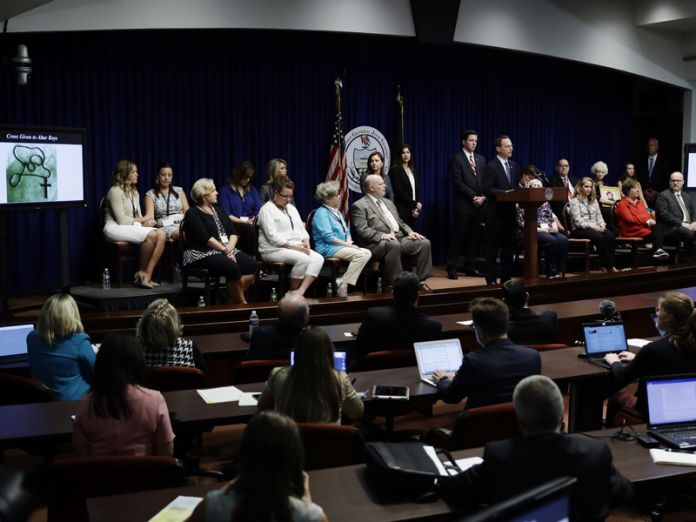 The attorney for Beaver County Children and Youth Services admitted to terminating the investigation of a priest accused of child molestations when he was the county's district attorney in 1964 because he wanted the Diocese of Pittsburgh's political backing.
Robert Masters' contract won't be renewed, county Commissioner Dan Camp said Tuesday. Masters earned a total of $162,941.48 in 2016, and $110,069.31 last year from the county. He served as the county's district attorney from 1964 to 1967. He was hired for the CYS position in 1989 at a salary initially not to exceed $16,000 a year.
"I did not find out about this until Attorney General (Josh) Shapiro mentioned his name in a press conference today," Camp said. "When I heard about it, I went down and talked with our law department."
The shocking revelation was one of many in a voluminous grand jury report released Tuesday by Shapiro. The report accuses Roman Catholic officials in six of the state's eight dioceses of covering up criminal sexual behavior by at least 300 priests and affecting more than 1,000 victims.
The grand jury noted that nearly every case was too old to be prosecuted. And such is the case with the late Rev. Ernest Paone, who began his priesthood in 1957 to 1960 at St. Titus in Aliquippa, and later served from 1961 to 1962 at the now closed St. Monica's in Wampum and St. Theresa in Koppel. But if Masters had chosen to prosecute, at least one of Paone's alleged victims might have gotten justice.
In 1962, St. Monica's pastor notified Bishop John Wright that he'd interceded to prevent Paone, a parochial vicar, from being arrested for "molesting young boys of the parish and the use of guns with even younger parishioners." The pastor told Wright that Paone was involved in "conduct degrading to the priesthood" and "scandalous to the parishioners."
In response, the diocese reassigned Paone to a Sharpsburg parish.
In 1964, Masters sent a letter to Bishop Vincent Leonard, telling him he'd stopped investigations into Paone and enclosing the transcript of an interview with a woman and her son.
"I have, in order to prevent unfavorable publicity, halted all investigations into similar incidents with other young boys," Masters wrote.
"In order to conclude this matter satisfactorily it will be necessary for me to receive a letter from you regarding treatment for the accused. I believe it would also be advisable for you to inform Monsignor Zauner of the incident so he may speak with the (redacted) family, and they may then inform our probation officer of their unwillingness to prosecute."
No further action was taken, the grand jury wrote.
Masters was called before the grand jury last September and confronted with his letter, which was obtained from the Pittsburgh diocesan files.
When the state prosecutor asked why he would defer to the bishop on a criminal matter, Masters said, "Probably respect for the bishop. I really have no proper answer."
Masters also admitted he wanted support from the diocese for his political career.
People who know Masters well describe him as a devout Catholic, whose faith is a major component of his life. He attends mass each morning, seven days a week, at St. Peter and Paul in Beaver.
Paone continued his career in Pennsylvania, then in California and Nevada before retiring in 2001. Over the years, the Pittsburgh diocese continually authorized Paone's service as being of "good standing," according to documents found in confidential archives obtained by the grand jury, and Paone was able to keep giving mass and teaching in public schools.
"There is no indication that the Diocese provided any interested parties information that Paone had sexually abused children or that the Diocese had played a role in preventing his prosecution for that conduct," the grand jury wrote.
The report was also critical of Bishops Anthony Bevilacqua and Donald Wuerl, now the archbishop of Washington, for allowing the activity to continue.
In 1994, the Pittsburgh diocese received another complaint of child sexual abuse committed by Paone in the 1960s. The victim's sister came forward and reported that after becoming aware of the abuse, her father "went to the rectory with a shotgun and told Father Paone that he better leave town."
The Diocese sent Paone to St. Luke's Institute for an evaluation.
In a confidential letter sent to St. Luke's, the diocese acknowledged that Paone had been teaching seventh- and eighth-grade students in the diocese of San Diego for 19 years. Other memorandums obtained again listed the sexual abuse allegations and noted that concerns about Paone's emotional and physical health had been raised as early as the 1950s while he was in seminary.
The grand jury report said the Pittsburgh diocese didn't act to place Paone on administrative leave until after the Boston Globe in 2002 published its earth-shattering investigative work on priests accused of sexual abuse of children and the Catholic church's practice of reassigning them.
Also in 2002, another victim told the Pittsburgh diocese Paone had sexually abused him in the 1960s. He told the church that when he was 15, Paone abused him in the boy's home, in Paone's car, and in a wooded hunting camp Paone took him to. The abuse included fondling, oral and anal sex.
Paone also gave the boy alcohol, pornographic magazines and cash. The diocese notified Paone and the Allegheny County District Attorney's Office but the statute of limitations had long expired.
In 2003, Wuerl accepted Paone's resignation from ministry. Wuerl wrote a letter acknowledging Paone's request while providing assurance that "sustenance needs and benefits will continue according to the norms of law."
But in a 2006 confidential memorandum, it was revealed that Paone had been "assisting with confessions for confirmation-age children, apparently asking inappropriate questions of the young penitents."
When questioned, Paone told local officials that he had permission from the diocese, but the diocese sent him a letter reminding him his faculties were revoked.
Paone died in 2012.
Now believed to be in his mid-80s, Masters couldn't be reached for comment Tuesday. CYS Director Dayna Revay also couldn't be reached.
Commissioner Camp, who received campaign contributions from Masters, said, "I am going to be returning that money. I am not sure yet what the total will be … This is not a political decision, it is my personal belief that I cannot and will not be associated with anyone who harms children."
Commissioner Tony Amadio, who also received money from Masters, couldn't be reached for comment.
Commissioner Sandie Egley said she had never heard of Masters until Tuesday.
"I am almost speechless," Egley said. "This is not anything you can ever prepare for. When you talk about the most innocent people in Beaver County, you are talking about our children. For him to be in any way connected with giving legal advice involving children for God's sake, my mind is spinning with questions."
BeaverCountian.com's John Paul contributed to this report.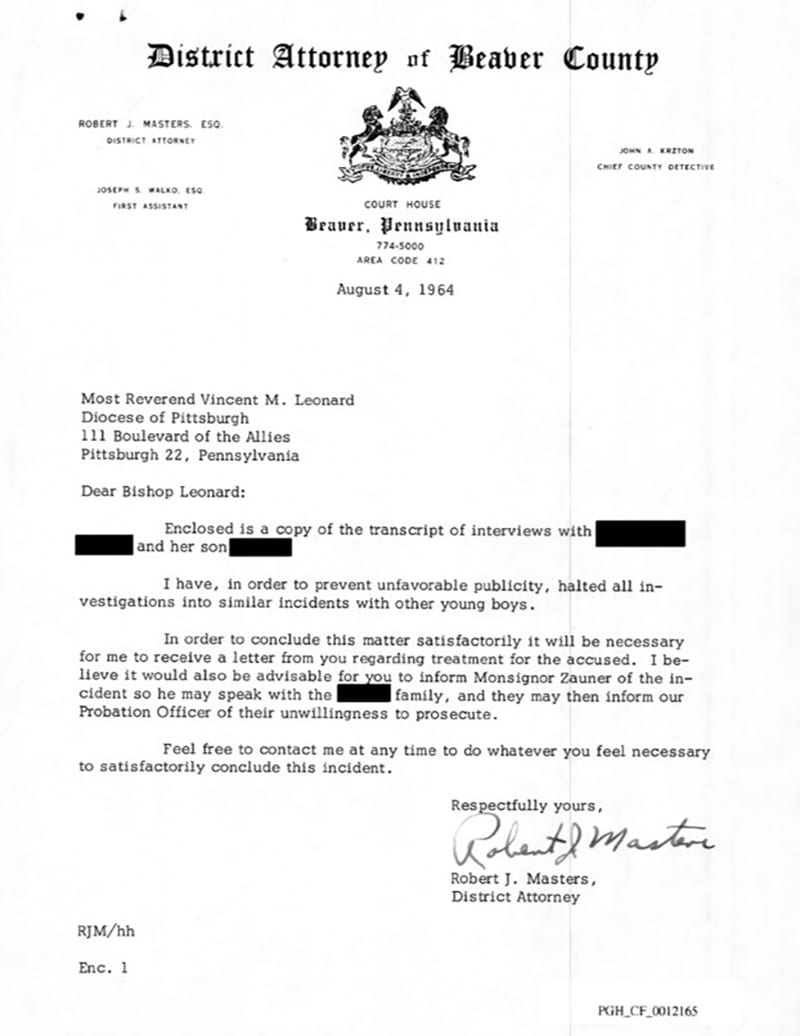 The 884-page grand jury report can be downloaded from BeaverCountian.com in its entirety here.