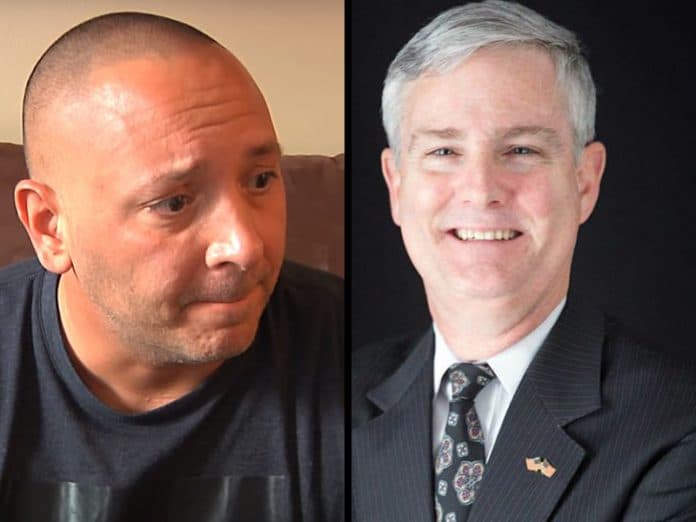 District Attorney David Lozier told Republican party officials last month claims made by Aliquippa Assistant Police Chief Joseph Perciavalle that the two met inside of party headquarters to discuss county corruption are untrue.
In an investigative report published by BeaverCountian.com on November 1, Perciavalle alleged he met with Lozier in 2016 at the then-headquarters of the Republican party on Adams Street in Rochester. He said he provided the district attorney with a box of documents evidencing alleged corruption within the Aliquippa Police Department and City government, but Lozier failed to take any action in response to the evidence.
Perciavalle claims county detectives instead filed felony criminal charges against him in retaliation.
Lozier told Republican party officials that he only met with Perciavalle briefly in the parking lot to "exchange information," and never had the extensive sit-down conversation inside of the building as Perciavalle had claimed.
Republican Beaver County Commissioner Sandie Egley told BeaverCountian.com she is deeply concerned about discrepancies between the stories being told by Perciavalle and Lozier.
"Republican Party Chairman Jim Christiana posed a question to District Attorney David Lozier at our last executive meeting, asking him if he used the Republican headquarters to meet about official district attorney business," said Commissioner Sandie Egley.
"Jim said he saw the article on the Beaver Countian and had been approached by several other people about the article, and he brought it up because he wanted to be able to provide an answer when asked."
Egley said Lozier insisted that claims made by Perciavalle in the article about a meeting inside Republican headquarters were untrue.
"David said he had been texting Perciavalle, and they were going back and forth and they wanted to meet but couldn't figure out where to meet. David said they decided to meet in the parking lot next to Republican headquarters, and said they never left the parking lot or went inside the building. He said they exchanged information in the parking lot and that he never even had a key to enter the building."
Before being elected to district attorney, Lozier served as the Beaver County Republican party's vice president.
A second source at the executive meeting, who spoke on condition they not be identified by name, corroborated Egley's account of Lozier's statements.
Perciavalle insists it is Lozier who is lying, and said he believes the district attorney is attempting to make people think their meeting was far less extensive than it really was.
"I parked in the parking lot right by the side door. Lozier was waiting in the parking lot for me. He unlocked the side door, and we both went inside. We walked down a hallway and there was a big table in the room. I took all my stuff out and put it out on the table, so I could explain everything to him so it would be easy for him to understand. He was looking at it, he got quiet, his face turned white, and he goes, Jesus Christ! … We were in there for a while, maybe an hour and a half."
Perciavalle said the two met a second time at the same location very briefly, where he handed Lozier additional documents he had requested.
Republican Party Chairman Jim Christiana – who previously served as state representative – acknowledged that he brought the subject up during last month's meeting, but declined to provide further information.
"In the best interests of the Republican party and the people of Beaver County I am going to keep this issue private for the time being," said Christiana.
Text messages provided to BeaverCountian.com by Perciavalle detailed the discussion he had with Lozier about meeting.
"I can get into an office in Rochester. How about 6:00 Wednesday March 9," Lozier wrote to the officer. "426 Adams Street Rochester. The side door. Across from the new subway."
The address was the one occupied by the Beaver County Republican party back in 2016, and is still listed on the Republican party of Pennsylvania's website, although the group has since moved to a nearby location.
Perciavalle has been on paid leave from the Aliquippa Police Department since June when detectives filed felony charges against him for texting an explicit video to Lauren Watkins, the then-17 year-old daughter of Aliquippa Police Sgt. Ken Watkins. His arrest came just two days after he was named Aliquippa's acting police chief on June 6. Chief Donald Couch had been placed on paid leave after Councilman Matthew Mottes claimed first-hand information that Couch was a target of investigation by state police.
After county detectives seized Perciavalle's phone following his arrest, they filed a second round of felony charges against him a month later after discovering an audio file of a conversation he had secretly recorded with Couch.
During a preliminary hearing in Perciavalle's cases held this week, a district judge threw out felony charges of distributing the explicit image to Lauren Watkins, apparently believing assertions by Watkins and Perciavalle that the text message had been sent to her by mistake, although a related misdemeanor charge of corruption of minors was held for trial.
The felony count of wiretapping Don Couch was also held for trial. The recording was made on the same day the Aliquippa City Building was raided by Pennsylvania State Police, and Perciavaille's attorney argued that he recorded Couch because he feared for his safety at the time.
Perciavalle alleges Lozier's denials about their meeting on county corruption are evidence he is intentionally engaged in a retaliatory prosecution against him with the sole purpose of protecting the very people he was attempting to expose.
"He's a damn liar, he's trying to downplay things," said Perciavalle. "He's no good, he's protecting corrupt people and nobody in Beaver County should feel safe as long as he's in charge."
David Lozier declined further comment about the matter.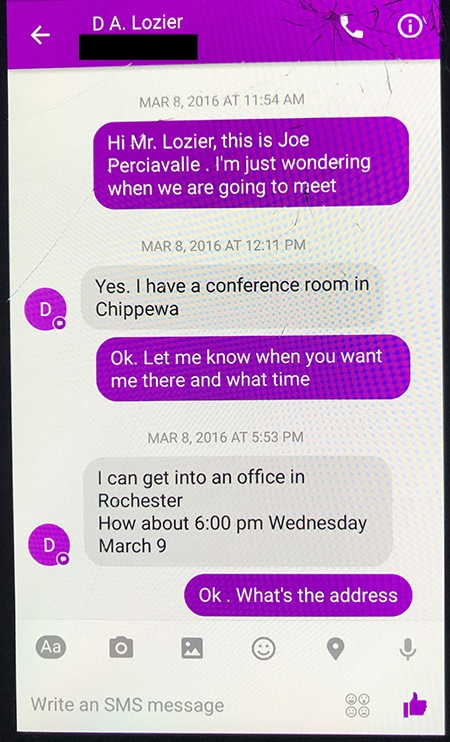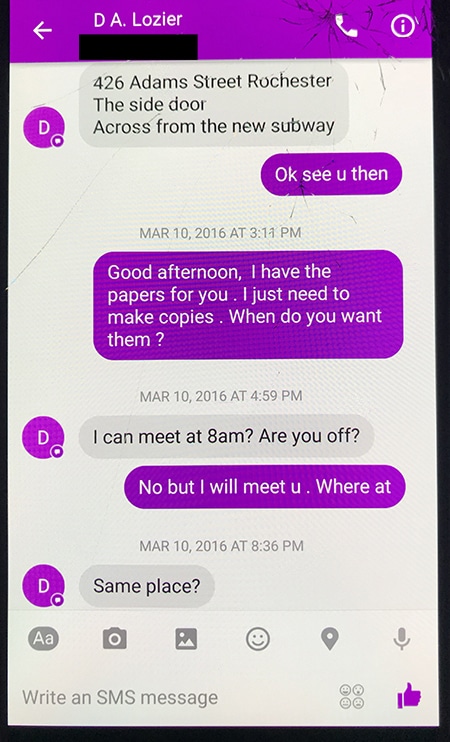 See Also:
– Investigative Report: Aliquippa Officer Claims DA Lozier's Office Retaliated After He Provided Evidence Of Corruption