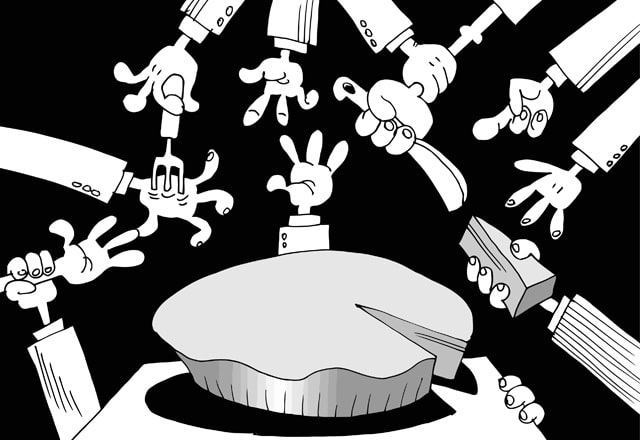 The subsidiary of a New Jersey based engineering firm at the center of political controversies for over a decade, has been hired by Beaver County Commissioners to perform work at Friendship Ridge. Two of those Commissioners now say they had no idea that the third received campaign contributions from the company's Vice President.
In December of last year, County Commissioners unanimously approved a contract with the engineering firm of Remington Vernick & Beach to perform work at Friendship Ridge. "We were going to do some facade work at Friendship Ridge earlier in the year. We had talked to some local companies about doing the work, but ultimately we decided we weren't going to go through with the project," said Commissioner Dennis Nichols. "We only brought on Remington, Vernick & Beach on an as-needed basis."
The firm is a Philadelphia subsidiary of the New Jersey based Remington Vernick Engineers, a company that has been at the center of "pay for play" controversies for years. "Pay for play" is the practice of giving contributions to a politician responsible for making contracting decisions, in hopes of later garnering work. The practice is controversial, but legal in Pennsylvania if there is no agreement in advance that a contract will be awarded in exchange for the political donation.
Remington Vernick first started raising eyebrows in political circles way back in 1997, when they were convicted in New Jersey of evading campaign finance laws. A judge ruled the firm established shell corporations for the sole purpose of bypassing campaign finance limits, and that the group had occasionally forged signatures on checks. Since then, the firm has regularly been the subject of media reports and editorials accusing them of doing "favors" for politicians, or being involved in various "pay for play" controversies.
In 2008, the Pittsburgh Post Gazette published an extensive article about the firm, citing controversies in Moon and Robinson. The article noted large campaign contributions given to candidates in state-wide races. "It is also clear from state records that Remington & Vernick is not engaging in any direct pay-to-play activities here — there are no records of political contributions from the firm's employees to local candidates," the paper wrote at the time.
Things have since changed.
Commissioner Nichols said he had been unfamiliar with Remington Vernick & Beach before they made a presentation last year, but declined to say how the group was first brought to the county's attention.
"It was Joe Spanik," said Commissioner Tony Amadio in a telephone interview. "He brought them in about six months ago to give a presentation, and recommended that we use them. Dennis and I didn't know of any firms, so we just agreed."
Commissioner Spanik told the Beaver Countian he found the engineering group back when the county began having problems with its previous firm. "Sometimes we don't have specific engineers locally, so I look around all over the place," he said. "We needed someone that had a background with healthcare facilities and there weren't any local ones so I asked around and [Remington, Vernick & Beach] was recommended to me. I said ok, fine, and set up a meeting."
"Any one of us can submit anything," added Spanik. "But everything has to be voted on by three individuals."
A search of campaign finance records by the Beaver Countian revealed Commissioner Joe Spanik received a $1,200 donation from New Jersey resident Craig Remington (a principal of the company) back in June, around the same time period Commissioner Amadio said the firm made their presentation. No campaign contributions were made to Commissioners Amadio or Nichols, and both said they were unaware Spanik had been given a donation from anyone associated with the firm.
Commissioner Spanik said there was nothing out of the ordinary with the campaign contribution he received from Remington. "Just like anything else, we raise money every year, because we give so many donations to a lot of organizations," said Spanik. "We send out to all of our vendors, and if you're dealing with a certain company, we send them campaign stuff. They give funds or they don't, that's just the way it is."
County financial records show Remington Vernick & Beach have not yet performed any work at Friendship Ridge, but the firm remains the official engineer of record for the facility.