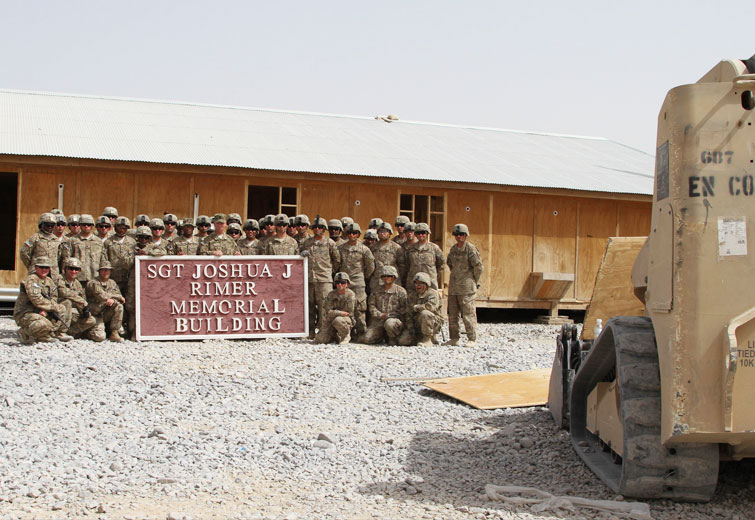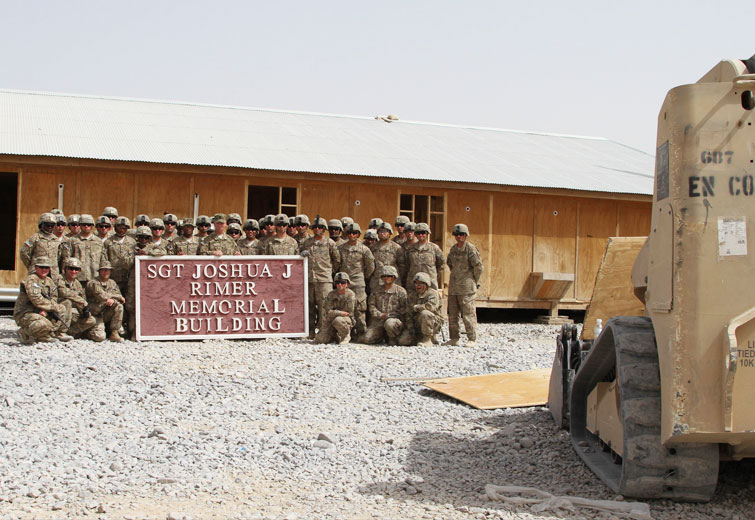 A sign dedicating a building in Afghanistan to Sgt. Joshua J. Rimer is now destined for Beaver County. Sgt. Rimer was an engineer Soldier from Rochester who died in 2009 of wounds suffered when an improvised explosive device detonated near his vehicle in Zabul Province, Afghanistan.
The Army is proceeding with retrograde operations as part of the president's security transition plan in Afghanistan, and a building at Kandahar Airfield dedicated to Sgt. Rimer was one of many scheduled for deconstruction to reduce the costs of sustaining unnecessary property.
Sgt. Tracy R. Myers of U.S. Army Central Public Affairs submitted an article to the Beaver Countian for publication on Tuesday, detailing the building's deconstruction and steps Sgt. Rimer's fellow engineers were taking to honor his memory.
Donna Rimer, Sgt. Rimer's mother, read the article on the Beaver Countian and left a short comment underneath. "My Hero, My Soldier, My Son!!! I truly appreciate the dignity the Army is showing my Son! It [is] so wonderful to know that many will [hear] his story," she wrote. "Joshua was an awesome soldier, man, and son! We miss him dearly!!! We would love to have the sign if at all possible."
The Beaver Countian received a phone call from the Soldier's father, James Rimer, a short time later.
This publication contacted Sgt. Myers to see if a wish from the fallen Soldier's family could be fulfilled. The Beaver Countian also spoke with Congressman Keith Rothfus' office who made contact with military liaisons to see if there was anything he could do to help bring the sign to Beaver County. Several of Sgt. Rimer's former battle buddies contacted their chain of command about the sign as well. A small group of local business owners emailed the Beaver Countian, offering to pay the costs of having the large wooden memorial sign shipped to his parents on condition they not be identified.
Today Sgt. Rimer's parents got their answer.
"I have good news! The engineer company, platoon leader and battalion are working together to get the Sgt. Joshua J. Rimes Memorial Building sign home to you all," wrote Sgt. Myers in an email to the Beaver Countian. "I have been advised that the unit is already planning the shipping."
Soldiers of the 687th Eng. Co., 315th Engineer Battalion will work to ship the sign back to a base in the United States, and then to his parents in Beaver County. The U.S. Army will be covering the costs.
"In addition we are going to have a ceremony with the BN Chaplain before we tear down the structure to commemorate SGT Rimer's sacrifice," wrote 2nd Lt. Gilbert Enzor in an email forwarded to the Beaver Countian. "There will be a flag flown on the flag pole next to the memorial building while the deconstruction is taking place. The flag will be sent to his wife and I will fly a second flag to send to SGT Rimer's parents."
"It's a nice memorial for my son, something from him is coming back home," James Rimer told the Beaver Countian after hearing the commemorative sign was being shipped to Beaver County. "I am grateful for this and I know my wife is too."
James Rimer said he and his wife would probably donate the sign to Sgt. Rimer's former school. Peter Kappas, who was Joshua Rimer's U.S. History teacher at Freedom, has already expressed interest in finding the sign a place of honor in the district.