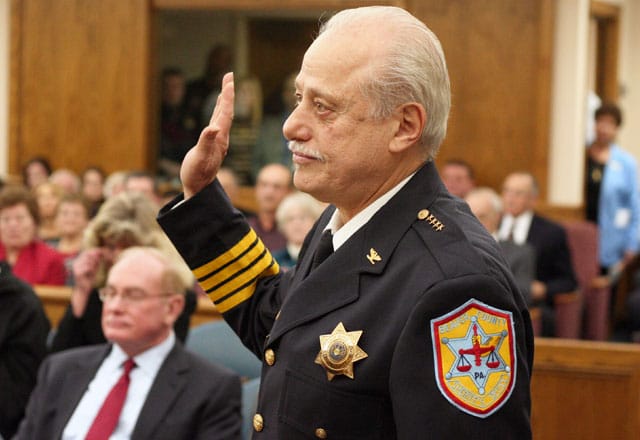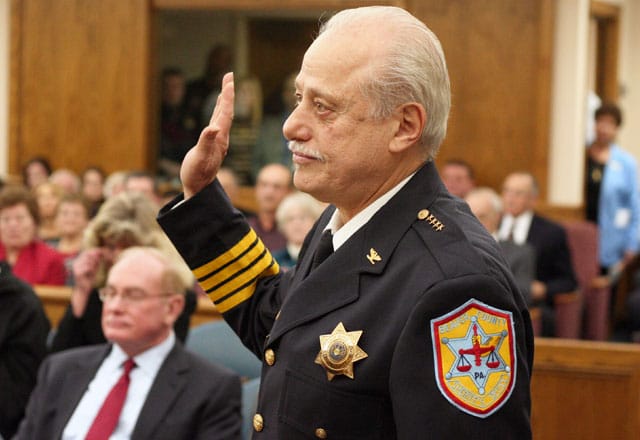 Beaver Countian file photo from December 2011 Swearing In Ceremony
Beaver County Sheriff George David pleaded his Fifth Amendment right against self incrimination at a hearing being held today in front of Senior Erie County Judge John Bozza.
Assistant Beaver County Solicitor Bernie Rabik called Sheriff David to the stand as a hostile witness in the case. "I recommend Sheriff David not answer any questions […] pursuant to the Fifth Amendment," Sheriff's Solicitor Myron Sainovich told Judge Bozza shortly after David took the stand. The judge subsequently excused Sheriff David from having to testify.
Judge Bozza is hearing testimony in the lawsuit filed against Sheriff David by the County Commissioners, who are seeking an injunction to prevent David from having his Deputies perform private security services for outside entities.
The Beaver Countian will provide complete coverage of today's proceedings later tonight.
UPDATE: Judge: Sheriff's Office Violating State Law
Note: In the interest of full disclosure, the Beaver Countian has released a statement regarding an incident involving Sheriff George David and this reporter.