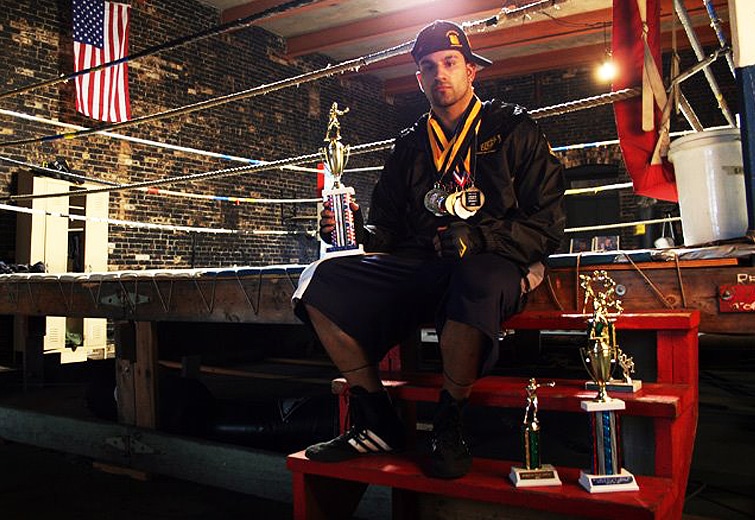 Beaver County Democratic Sheriff George David has recruited a local prize fighter to run as a Republican against incumbent Democratic Controller David Rossi.
Josh "The Handsome Hitman" Himes, an iron worker from Monaca who recently went professional with his boxing career, confirmed to the Beaver Countian he will be running as a Republican for County Controller.
Himes said he has been a registered Republican since he was first eligible to vote.
"For many years I have always watched and looked and learned and I figured this is a path I'd end up taking," Himes told the Beaver Countian. "A lot of avenues that I looked at as far as the political side goes, money for me, as far as monetary value, I've always had a niche for. I went to college for business and left after two years for the Olympic boxing trials. But money comes natural for me, money always comes easy to me, numbers, figures, that whole side of accounting, that's why I am running for Controller […] I think it would be a better gig for me than getting punched in the face."
Himes said he hopes to go back to college to complete his degree in business, and also intends to continue his boxing career if elected County Controller.
"I turned professional in November and I'm 2-0 in my professional career, so boxing has really taken off for me, but I can't do that for life, so this will be a good backup for me. Obviously Controller it's not a 24×7 job, I'm not working Monday through Sunday at it and I'll have time after the job to train and I can do both […] I'm young and durable and tough and I can handle that."
Republican Josh Himes said Democratic Sheriff George David is helping him in his candidacy for Controller. "I met with George and he told me this would be a good idea for me to do he told me I should do this. He told me there's nothing in life easy so I got to prepare and get ready for the whole petition thing to get on the ballot […] I had him educate me, the more I learn from him the better off I will be."
Along with support from Sheriff David, Josh Himes also has the backing of Republican State Representative Jim Christiana.
Representative Christiana told the Beaver Countian he is personal friends with Himes and will be supporting his candidacy. "Josh clearly has a wide spectrum of friends and supporters," said Christiana. "A testament to his personality."
"I hope that George [David] and Jim [Christiana] will both be able to keep helping me and guide me," said Himes. "I'm going to be listening to both of them to guide me the right way which I know they both will do."
Himes said he will be running for himself in this election, not running against incumbent Democratic Controller David Rossi. "George wanted to talk things about Rossi but I didn't get into that, I know Dave, I like Dave. I'm doing this for me."
Sheriff David hired Josh Himes' brother Mitchell as a Deputy last July.
Beaver County Republican Committee Chairwoman Megan Carpenter told the Beaver Countian she has not been approached by Josh Himes about his candidacy. "I was unaware of this development until you called me," said Carpenter, "and I feel the need to speak to the parties involved until I make any further comment."
Josh Himes has a petition signature gathering event scheduled for tonight from 6pm to 8pm at Mario's Woodfire Pizzaria in Beaver. "My primary focus right now is getting the 250 signatures that I need," said Himes. "I need to get as many signatures as I can."