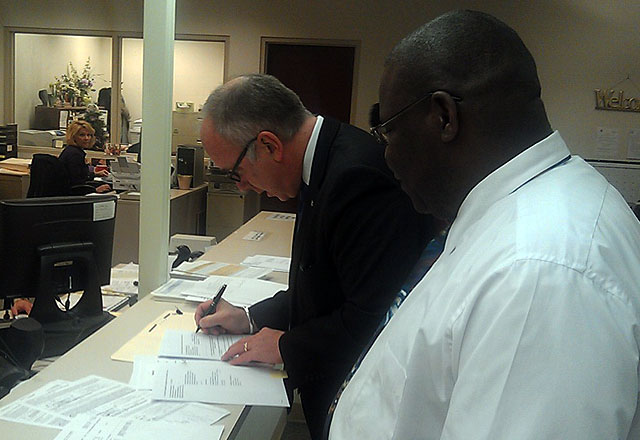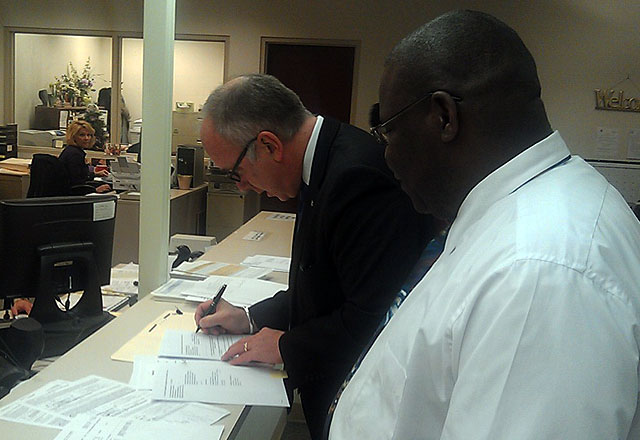 Attorney Michael Wojcik with Joe West of Aliquippa
A group of Aliquippa residents have filed a lawsuit asking a Beaver County Judge to keep Robert "Bobby" Williams off of the May 21st primary ballot. Williams is seeking a seat on City Council.
A series of investigative reports published by the Beaver Countian raised questions about Williams place of residence, and with the validity of entries on his nominating petitions.
The lawsuit was filed by attorney Michael Wojcik of the Pittsburgh lawfirm Thorp Reed & Armstrong on behalf of Joseph C. West, Kenneth Thornton, Kelly Callen, Tanisha Renae Gill and Sandra Gill.
"As a result of the defects, other irregularities, and outright pattern of impropriety in the signatures, addresses, and dates of the Signers, the Nomination Petition contains insufficient valid signatures to qualify the Candidate for inclusion on the May Primary Election Ballot in the Commonwealth of Pennsylvania as a Democratic candidate for the office of Member of Aliquippa City Council and the Nomination Petition should be set aside," the lawsuit reads in part. "In addition, there is compelling evidence that Williams is not a resident of the City of Aliquippa and is not qualified under the Third Class City Code to serve as a Member of Aliquippa City Council."
The lawsuit, which is over 40 pages long with exhibits, goes on to cite the Beaver Countian's investigative reports.
Beaver County Judge Gus Kwidis has scheduled a hearing on the matter for 10:00am on March 25th in courtroom 6.
Bobby Williams has declined to return messages seeking comment since the Beaver Countian began its investigation, having previously told this reporter to "go fuck yourself." Several residents of Aliquippa have accused Williams of flashing a gun and using racial slurs when he visited their home to collect signatures for his petition.
Editorial Note: For clarification, the Bobby Williams mentioned in this article is not the same man who ran against Jim Christiana for state representative.
[gview file="http://BeaverCountian.com/wp-content/uploads/story-manual-uploads/03-19-2013-Williams/williams-ballot-lawsuit.pdf"]