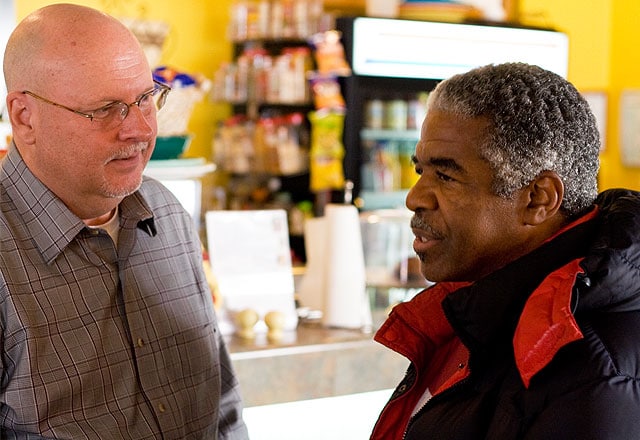 "No other politician has ever really talked to me before," said 67 year old Wilfred Henderson of Aliquippa. "Back in the day, politicians would to come through Aliquippa with bottles of booze just come election time, try and hand it out to the black folks and tell them who to go vote for […] They don't come through Aliquippa at all no more. Well, except for him," he laughed while pointing to Jack Manning, the Independent Candidate for Beaver County Commissioner.
Manning was at Uncommon Grounds, the innovative Cafe slash Missionary on Franklin Avenue which has become a cornerstone of Aliquippa. Unlike the politicians of yesteryear, Manning wasn't handing out booze, although he was sponsoring a free lunch — The type of work he and his wife, who live in Chippewa, have been doing in Aliquippa since long before deciding to run for office.
"We've been supporters of Uncommon Grounds since it was just an idea," said Diane, Jack's wife of 37 years. Perhaps counterproductive to his political efforts, Manning doesn't openly talk much about his charitable work. "Let me put it this way," he said. "I believe we each owe more to our communities, than just the taxes we pay."
It might be that same logic behind Manning's Independent run for Beaver County Commissioner — A campaign he's funded almost entirely out of his own pocket, to the tune of $60,000. "I would never allow myself to become beholden to any special interest, but I don't want to take money from people and create even that appearance" said Manning "I want people to know I am truly Independent in every sense of the word."
Manning started his career as a shift worker for Shell Chemical, shortly after his mother died following her long battle with cancer. Manning was just 20 years old at the time (he was 34 when his father died of a heart attack). He worked his way up to become the first quality specialist for the company, which was later bought by the Huntsman family.
"I'm sorry I'm getting a little bit emotional," Manning paused. "They saw something in me, that I didn't see in myself back when I was in my 30's. That had a profound impact on my life."
The Huntsman family promoted Manning to become the Global Manger of Quality Performance for their company, later to become the Director of North American Human Resources. He would go on to join their Divestiture and Acquisition Team, and eventually become a Director of Manufacturing overseeing a $60 million budget.
Along with his professional work, Manning has always been active in the community. He served as a Trustee and Vice Chairman of the Board for CCBC, leaving in 2010 due to term limits. He sits on the Board of Directors for the local United Way and the Gateway Rehabilitation Center, where he's overseeing expansion of a youth services facility and detox program.
"Jack Manning, my man," a voice shouted from the other side of the Cafe. Our biographical session was interrupted by Shon Owens of the Aliquippa Council of Men & Fathers (Owens was honored by District Attorney Anthony Berosh earlier this year for his work at reducing crime in Aliquippa). Manning and Owens spent some time talking about the latest happenings around town. Before leaving, Owens turned to me, "I can't really endorse anybody because of my work with the Council of Men & Fathers, I have to stay independent. But I will tell you, we have got to do something different here in Beaver County. We have GOT to do something different." Owens gave Manning a few slaps on the back, laughed, and was on his way.
It was after retiring from Nova Chemical, that Manning started up his one man consulting firm Pinebrook Cottage Consulting. He was soon given a small contract by Beaver County Commissioners to do work for the local Corporation For Economic Development.
"That was really the tipping point for me" said Manning "After working with them for 6 months, I knew I had to do something more."
Manning said large companies simply aren't interested in doing business in Beaver County right now, "I kept hearing it over and over and over again. We don't do business in Beaver County, because we don't think Beaver County is open for business […] The perception out there, and it might very well be accurate, is that there's way too much cronyism going on in this county right now. I know I can change that. I know what businesses want, I know what businesses need, and I know that Beaver County can provide it […] The only thing Beaver County doesn't have, is a Commissioner who can communicate that message in a language businesses understand."
"I have a 4 year old granddaughter who is very dear to me," Manning later said. "I don't want to see her have to move someplace else to reach her full potential. It just doesn't need to be that way."