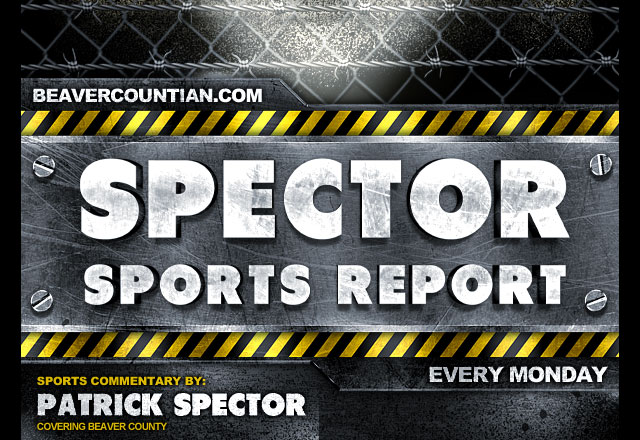 This Weekend's Games In Review

Rochester 28 Over Neshannock 21
The stage was set for Beaver Countian's game of the week in the Borough of Rochester for a battle of two undefeateds. The Lancers jumped out to a 14 to 7 lead, on the way to fulfilling my prediction of a win by Neshannock. But the Rams scored before halftime on a 69 yard run by Dante Marsick to go down by 1. In the second half Rochester continued to control the game behind Marsick, who proved to be an all around workhorse with 200 yards rushing, 65 receiving, and 3 touch downs. Coach Gene Matsook reloads with another running back for the Rams' long legacy: Chalmers, Laws, Johnsons, and now Dante Marsick.
Spector's Spike: As solid as Rochester looked, one has to think how much better they could have been if they hadn't lost some of their players due to transfers in the off season. Usually Class A football doesn't leave me inspired, but I was impressed by the two teams Friday night, especially Rochester. (If only someone could fix the potholes in that town, trying to get to the game was like entering a war-torn country.)

South Fayette 52 Over Quaker Valley 0
Quaker Valley as excepted got blown out in every facet of the game by South Fayette, giving up over 350 yards passing. A 52 to 0 loss. What more can I say?

Aliquippa 49 Over Freedom 3
Quips took it 49 to 3 which means yes, Freedom actually scored (yay for them). The team managed to kick a 29 yard field goal in the 3rd quarter (when they were already down by 42 points). Guess that was the Bulldogs' moral victory for the night. Quips had nearly 400 yards rushing, lead by Travon Henry's 144 yards on 14 carries. Coach Mike Zjmanjic played everyone on his roster that was eligible to play for most of the game.
Spector's Spike: With their next opponent being Ellwood City, Quips will remain untested for yet another week. It's still not too late for the former Center head coach and Beaver resident Don Phillips to resign before his old pals roll into town.

New Castle 51 Over Blackhawk 25
An amazing performance by Cole Chiappialle with 240 yards rushing and 4 touchdowns, along with University of Pittsburgh recruit Chandler Kincaide's 135 yards passing. But it still wasn't enough to take a win after their defense got tore apart like it was a Pop Warner team. The Cougars dropped to an overall record of 1 and 5.
Spector's Spike: As I said last week, if the Cougars lost their payoff chances were just about gone, and long time coach Joe Hamilton might be gone along with them. A contingent of boosters have been chomping at the bit to push the Hall of Fame coach into retirement.
Not to agree or disagree with their movement, but if not for the freshman class being moved to varsity this year, they would have had only 20some players on the roster. Which raises two questions: How in the hell? – and – Why?

Hopewell 10 Over Ambridge 6
This wasn't one of my key games to watch last week, but Hopewell still remains in the playoff hunt by beating Ambridge 10 to 6.

Central Valley 42 Over Moon 9
Central Valley shredded Moon with ease 42 to 9, thanks to a great performance by Robert Foster. Speaking of thanks, Foster was seen on Twitter a week ago thanking Pitt for coming to the game. He was asked if Alabama was still in the picture, his reply: "Maybe if they show me some love." Show some love they did, with the head recruiter for Bama making an appearance in Center Township this week to watch as Foster scored 3 touchdowns.

Beaver Falls 34 over New Brighton 31
Spector's Spotlight took heat from some New Brighton faithful for not featuring their game against rival Beaver Falls in the Battle of the Little Brown Jug. Well here's the attention from me you were asking for: With a 24 to 7 lead at half time, it looked like the Lions started to sip a little too much from that little brown jug, somehow blowing their lead under the direction of Joe Greco. The Lions gave up 27 points in the second half as BF won 34 to 31.
The only thing brown New Brighton managed to take home with them was in the coach's jockeys after that debacle.

Upon Further Review
We do have some good news for New Brighton fans, as your favorite son Terry Francona is back in the dugout as manager of the Cleveland Indians — The very same team his father (and New Brighton resident) Tito Francona played for.
We have to give Terry credit, he must really love the dugout — His last stint as the Boston Red Sox' manager (where he won a world series) ended with him being fired. The Boston media claimed his players were drinking and gambling during games, and his wife left him mid-season over an alleged affair (he denied reports that he may have been addicted to prescription pain killers).
You'd think a job making nearly 2 million dollars on ESPN (working just a few days a week as a baseball analyst) would have been refreshing for Francona last season (not to mention a lot less stressful)…. Guess not.

From The Press Box
Syracuse 14 to 13 over Pitt, Penn State upsets Northwestern, and Steelers hold on to win 16 to 14… Whew.
I'll be back again on Thursday to announce Spector's Picks of the week!