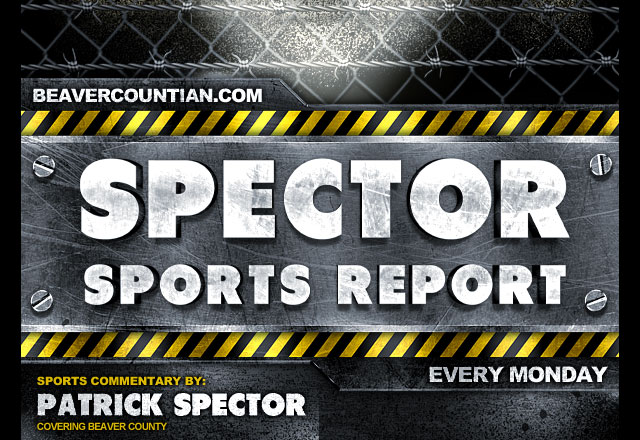 Steelers Dictated The Miserable Beaver County Sports Weekend
A weekend of football kicked off early last week, with a Thursday night game for Pittsburgh in Nashville against the Tennessee Titans. The weekday gameday caused a stir for fans who have Sunday rituals — Like going to my favorite bar where I get to listen to some ass predict and/or critique every play. People in Beaver County treat it like a holiday, the rushing home from church, the "I don't care honey go to the mall and rack up the credit card just let me lay on the couch", the inviting over of two dozen friends to eat black and gold cupcakes… Yes the Thursday night games cause havoc, leading many to call off of work the next day, or make up some excuse as to why they were late (being sure not to mention the consumption of alcohol).
It all set the tone for a train wreck of miserableness. True fans who stayed up to watch the final saw the Steelers once again have a late game collapse, losing 26 to 23.
Many are asking the standard questions like "How did this happen?" or "Why did this happen?" It's simple — The Steelers' ownership have become Hometown Yinzer Fans, rather than business owners. The Rooney family run one of the most storied and successful franchises in the game's history, but are now making costly decisions with their hearts, rather than good investments with their business fortitude.
The Steelers need to stop signing fan favorites who should be gotten rid of, it's that simple.
After winning the Super Bowl, James Harrison became a hero and was signed for a ridiculous contact which he has never lived up to. Troy Polamalu is a great player when he's healthy, but should have been cut to make some room under the salary cap — He's getting old and injury riddled. Casey Hampton should of been cut last year too. But the worst decision has been with the offensive line, the $100 million dollar contact to Ben Rothlisberger, who is "protected" by the likes of Max Starks and Willie Colon (both lazy and out of shape, thank god Ben weighs 260lbs and can endure the abuse).
From The Local Press Box (Friday Miserableness)
The miserableness continued for some as they sought out temporary relief by taking in their hometown team on Friday night — Depending what part of the county you're from, things may have gotten a little bit better for you, or much much worse….
- Central Valley as predicted blew Hopewell out in the BeaverCountian.com game of the week 35-17, but not before once again trailing early on.
- Blackhawk again blew a lead, this time to number one ranked Montour 40 to 35
- Ambridge defeated Chartiers Valley 34 to 16
- Beaver defeated Mohawk 35 to 14
- Aliquippa 54 to Ellwood City 12
- Beaver Falls 42 to Freedom 14 (for the love of god merge with Rochester already)
- Sto-Rox defeated Western Beaver, 53 to 0 (maybe merge with Beaver?)
- Rochester rolled over Laurel 35 to 13
- Moon pounded New Brighton 48 to 13 (Yep, Greco is still the coach, now who are they blaming?)
- South Fayette 68 to Riverside 0 (It's been a long time since Ron Sciarro walked the sidelines.)
The Miserableness Continued On Saturday
The plague started by the Steelers on Thursday continued into Saturday, as the Pitt Panthers got smacked by Louisville 45 to 35 before a homecoming crowd. Congratulations to new coach Paul Christ who now falls to a 2-4 record.
Penn State fans had a week off before traveling to Iowa, leaving them with nothing but thoughts of Jerry Sandusky being given a 30 year sentence by the courts — Not to mention the death sentence handed down by the NCAA that will see their program set back 10 years minimum… Ahhh the sweet smell and sour taste of miserableness….
Although Saturday left life a little greater for Notre Dame fans (and we know there are thousands in beaver county), who won a questionable victory in overtime against Stanford (20 to 13). Now ranked 5th in the nation, Notre Dame has finally became relevant again (for now)!
Locker Room Rumblings (More Miserable Is On The Way)
Lincoln Park is loading up its roster for the upcoming hoops season, with 3 recent transfers. Coach Mark Javens has added some serious horses to his stable:
Ryan Shovaranko is a West Mifflin resident (50 mile one way trip) and former stand out.
Hopewell's Maverick Rowan is the son of former Ambridge and Hopewell coach Ron Rowan, who played professionally before that.
Then there's big time forward Elijah Minnie. The 6'8 junior played at Monessen as a freshman, then Summit Academy as a sophomore, and now finds himself at Lincoln Park. But he's still living in Monessen area, some 70 plus miles away. The WPIAL has already ruled him ineligible to play at LP, saying his move was an issue of recruiting and a transfer for athletic intent — It looks like further details will be coming from PIAA litigation.
It does leave one wondering, that's a lot of miles to travel for these young men who have chosen to become educated at a "Performing Arts Center" in Midland.
Stay Tuned.