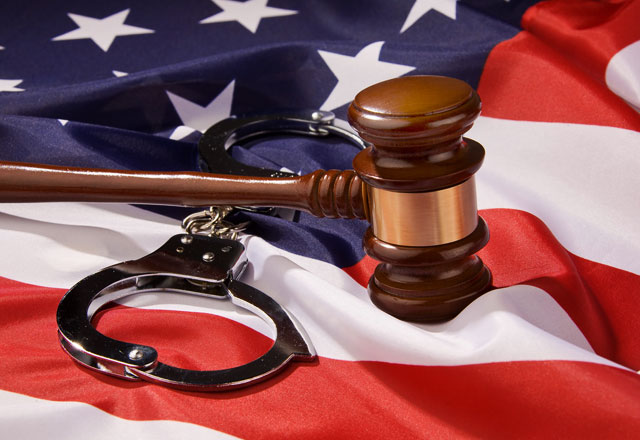 Ohioville Borough Police Chief Ronald Lutton is now facing 64 felony charges, after a previous criminal complaint filed against him in February was amended yesterday by the Pennsylvania State Police.
According to an Affidavit of Probable Cause filed in the case by State Trooper Eric Weller, the alleged theft first came to light when Ohioville Secretary Maureen Hapach was processing payroll records for the police department back in July of 2012. It was then, according to the report, that she noticed Chief Lutton's name appearing on hearing notices that had previously been submitted in prior pay periods. She decided to pull all of Lutton's payroll sheets for 2012, and saw that several of the same hearing notices had been used as many as four times, but that the dates and times on the notices had allegedly been altered. She compared the hearing notices to those submitted by other officers in the department, and said she noticed discrepancies in their appearance.
Hapach then contacted Ohioville Borough Officer Nevine Beatty, who she felt was trustworthy. Officer Beatty began to investigate. During the course of his investigation, Beatty allegedly found that several of the hearing slips were for cases that had been disposed of long before the date and time listed on the notices submitted for overtime by Chief Lutton. Officer Beatty contacted the Pennsylvania State Police.
Tropper Weller alleges he discovered 63 court related documents submitted by Chief Lutton that "were altered in various manners including, but not limited to; dates, times and officer name." The alterations were purported to have been done "by handwriting and/or typewriter which were then subsequently submitted by [Lutton] to Ohioville Borough for payment for hours worked."
Pennsylvania State Police say Ohioville Borough suffered a loss of some $63,969.91 between May 8th, 2005 and July 31st, 2012, including contributions that the town made to Lutton's retirement fund as a result of the alleged fraudulent activity.
Officer Beatty filed a Whistleblower Lawsuit against Ohioville back in January, alleging the town's Mayor and others began a campaign to have him fired from the department and otherwise engaged in retaliation as a result of his investigation into Chief Lutton.
Lutton is now facing 1 felony count of Theft by Deception, and 63 felony counts of Forgery. A preliminary hearing in the case has been scheduled for June 6th.
Related Stories By The Beaver Countian:
Retaliation? Officer Removed From Schedule After Sparking Corruption Probe
District Attorney's Office Approves Private Complaint Against Officer
Man: The Mayor Had Me File A Complaint Against Officer Beatty
Ohioville Mayor Files Harassment Complaint Against Beaver Countian
Man Who Filed Complaint Against Officer Becomes Belligerent At Court
Leaked: Internal Emails From Ohioville Police Department Raise Questions
Photos At The Center Of A Private Criminal Complaint Against Officer
Police Officer Files Whistleblower Lawsuit Against Ohioville Borough And Officials
Judge Dismisses Private Criminal Complaint Against Ohioville Officer
Ohioville Officer Remains Off Duty As Borough Hires New Patrolman
Ohioville Officer Who Sparked Corruption Probe Fired From Second Department
Ohioville Police Chief Charged With Theft And Forgery
Ohioville Officer Who Sparked Investigation Against Chief Back On Duty
Investigation Into Ohioville Police Chief Continuing Despite His Arrest
Share Article On Social Media: