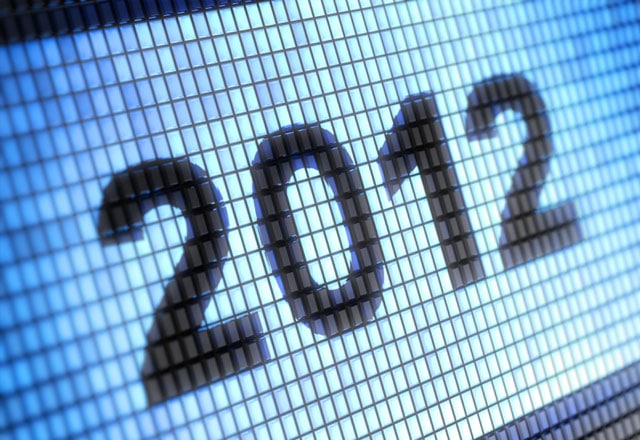 It's nearly 2013, which means I've spent another year cataloging the happenings in Beaver County, Pennsylvania. Here are some of my personal favorites, both joyous and tragic, that the Beaver Countian wrote about in 2012:

- When DUI Claims A Life
I covered the case of Robert Banko, who was driving drunk when he struck and killed 34 year old David Cook. Banko pleaded guilty to several charges including DUI, Involuntary Manslaughter, and Causing An Accident Involving Death. Before he was sentenced by the judge, David Cook's family was given the opportunity to read what are known as "victim impact statements" — an opportunity to tell the court how David's death had affected their lives. What I heard on the stand from his family that day was gut wrenching, and something I suspect I'll never forget.
After the court hearing, I approached a family member and asked permission to publish their statements. His other family members soon gathered around me, giving me hugs and handshakes as they handed me the original letters they had just read in open court. They told me they hoped their words could help save a life. I went home and re-typed their letters, some of them stained with tears, and published them unedited.
Their words are still being read to this day, some eight months after I first posted them online. Search engines now regularly direct people to their letters, people looking for information about deaths caused by DUI, and on the affects such tragic losses have on a family. Sadly, there have also been dozens of people directed to their letters while searching for help facing their own tragedies, by entering phrases into Google like "how do I write a victim impact statement about my brother's death."
Because this family was willing to bare their souls for the world to see, and because their words have touched so many lives, this story makes my list for 2012.
The Impact On Victims: In A Family's Own Words
[top /]
- Beaver Borough Police Take Over Industry
This story makes my list because it was made possible by having developed good sources over a long period of time. When Industry Borough reached a secret agreement to contract with Beaver Borough for police services, no mention of the contract appeared on the town's agenda for that month, and not even all of their council members were aware of the deal. The Beaver Countian was told that a vote was going to take place, and was the only media organization present when Beaver Police swept into town as officers from Industry were relieved of duty. The resulting coverage provided insight into a process which will likely take place many more times in Beaver County's not so distant future.
Surprise! Beaver Police Take Over Industry Borough
Police Union To File Unfair Labor Practice Against Industry
[top /]
- Confessions
It's not very often that an investigative report ends with someone making a confession, but that's what happened when I began looking into the finances of the Pulaski Township Fire Department. Members of the department contacted the Beaver Countian wanting to know if we would find out why the District Attorney's Office refused to prosecute their chief for allegedly embezzling funds. After talking to the District Attorney, I quickly found the reason he wasn't prosecuting the case, was because he was never made aware of it. During the course of my reporting, Department President Don Hickey admitted to lying to his fire department about contacting the authorities, and the department's former chief, Rich Morrell, later admitted to the Beaver Countian that he had taken the funds.
For an epic conclusion to one of our investigative reports, this story makes my list of favorites in 2012.
Former Fire Chief Admits To The Beaver Countian He Stole Department Funds
[top /]
- A Giant Of Inspiration
I followed Beaver County Sheriff's Deputy Chris Pipkin to Aliquippa, where he gave a series of speeches to students as part of Black History month. His candid discussions about his own personal struggles made an obvious impression on the young people who gathered to hear him speak. After reading our story about Pipkin, several superintendents from other districts in the county contacted the deputy, asking if he would be willing to establish outreach programs in their schools.
Because he showed a humility that helped to inspire disadvantaged youth, this story was one of my favorites of the year.
A Giant Of Inspiration
[top /]
- SOPA, Congressman Altmire, and the Geeks
I wrote a story titled "Altmire Still Undecided On Controversial Internet Bill", which talked about the "Stop Online Piracy Act" making its way through Congress. After seeing a link to my story on Twitter, local small business owner John Dalton of "The Fountainhead Cafe" in Monaca Tweeted Congressman Altmire, expressing his opposition to the bill. He also invited the Congressman to visit him in his Cafe to discuss it in detail. Congressman Altmire saw the Tweets, accepted Dalton's invitation, and contacted the Beaver Countian to announce a town-hall meeting to be held at The Fountainhead Cafe. The event was attended by a tech savvy group of constituents, and Congressman Altmire subsequently announced his opposition to SOPA — a Bill that was eventually defeated in Congress.
It was one of the first times I had seen social media locally play such a direct role in the legislative process, making it one of my favorite stories of the year.
Altmire Still Undecided On Controversial Internet Bill
Congressman To Visit With Geeks In Monaca
Altmire Comes Out Against SOPA At Event In Monaca
[top /]
- When A Child Alleges Rape
Stories of alleged sexual abuses of children are tragically on the rise in Beaver County. This in-depth coverage of one case that went to trial shows just how difficult the decisions made by police and prosecutors can be after such allegations are made.
Because the subject matter was troubling, and because it was a story that needed to be told, this one made my list.
Count One – The Rape Of A Child
[top /]
- He Was Courageous And They Were Wrong
I was standing outside of a home in Chippewa that was still on fire when I met 17 year old Cameron Otlowski, who lived in the house next door. I talked to him about the fire, talked to several of his family members, and talked to several first responders on scene. I also heard some remarks made by a man who was being placed into a police car. What happened was clear. The fire had been intentionally set by Daryl Wilczek, Cameron's uncle who was suicidal and wielding a knife when the teen wrestled with him, pulling him from the burning home to safety. I told the story of this young man's bravery and courage in an article published later that night.
The following day, the Beaver County Times published their own article about the fire, quoting their own sources (who were not on scene that night), and calling my reporting and Cameron's acts of heroism into question. "Despite some reports that a family member pulled Wilczek out of the home, Berchtold said he had no information to indicate that had been the case, and officers saw Wilczek walk out of the home on his own" they wrote. I subsequently received several phone calls from Cameron's irate family members, and had conversations with first responders who were upset at the Times' reporting. I encouraged the reluctant family to call a reporter at the Times, who as a result published a story the following day titled "Family pulled distraught man from burning home."
Because "new media" is often criticized for not being as accurate or reliable as "traditional media", and because this story helped to prove those stereotypes wrong, it has made the list of my favorite articles in 2012.
Heroic Teen Saves Suicidal Uncle From Housefire
Editorial: Reports Contradict Reports About Contradicting Reports
[top /]
- Hand In The Cookie Jar
An exhaustive investigative report by the Beaver Countian linked Republican State Representative Jim Christiana to a political action committee called "Commonsense For The Commonwealth." The report showed how $120,000 donated to the PAC from school choice groups "mistakenly" made its way to Christiana's campaign headquarters in Beaver, and how the treasurer of that PAC had direct ties to Representative Jim Christiana.
For being a challenging game of Where's Waldo, this story was one of my favorites of the year.
Investigation Shows Rep Jim Christiana's Ties To School Choice Groups Could Top $170,000
[top /]
- Other Hand In The Cookie Jar
Republicans weren't the only ones the Beaver Countian caught with their hands in the cookie jar this year. When storage shelving units were in need of painting, the county's Board of Commissioners, controlled by Democrats, tried to push through a contract for a favored painting company. The $9,999.99 was suspiciously shy of the $10,000 ceiling that would have required the job be place out to bid. Our reporting showed the initial contract proposal was less than what the painter had actually quoted, and it failed to note mandated materials which would have required a change order after the contract was awarded. As a result, this blatant attempt to bypass the bidding process was exposed.
For playing dodge ball better than I ever managed to in high school, this story made my list.
Beaver County's $9,999 Paint Job
[top /]
- Hand Pulls Gun From The Cookie Jar
I was working on a story about the Sheriff's Office demanding the county do away with public bidding for its uniforms. The uniforms had always been placed out to bid by the county in the past, new bids had already been solicited, and the new winning bidder had already been announced. Central Services Director Mary Anne Ruskin raised concerns that throwing out the bids and not rebidding the uniforms may violate state law. Sheriff David subsequently berated Ruskin at a meeting with Commissioners.
After Sheriff George David found out I was thoroughly investigating the contracts for a potential story, he called me into his office. He eventually pulled his service weapon from its holster and began threatening to murder several people, myself included.
Because reporters shouldn't be threatened with guns by public officials for investigating potential acts of corruption, and because the people Sheriff George David threatened are still not safe, these stories (including all of our subsequent investigative reports into his apparent abuses of power and other antics) have made my to-be-continued list for 2012.
Editorial: The Time Has Come For Those With Power To Use It
[top /] Sometimes a photograph can capture a moment in time far better than the written word. Here are some of my favorite photos taken by the Beaver Countian in 2012.