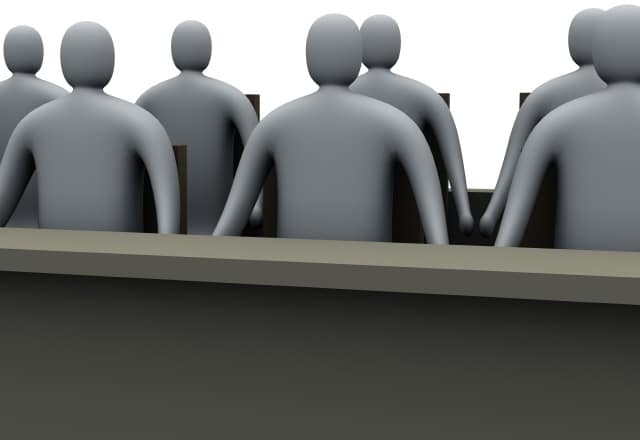 Today began day one in the case of Commonwealth v Damontae Williams, the man accused of shooting Monaca Patrolman Alan Shaffer last July following an alleged robbery of a Cricket cellphone store in Center Township. The entire morning and much of the afternoon was spent in voir dire, the process by which a pool of potential jurors is questioned and whittled down to the 12 jurors and 2 alternates who will hear the case.
The process was originally going to be conducted out of view of the media, in a jury deliberation lounge housed in an area of the courthouse that is off-limits to the general public. An objection by the Beaver Countian led to a hearing in the judge's chambers with council for the prosecution and defense, and a decision by Judge Dohanich that voir dire would be conducted in open court.
One by one, prospective jurors were asked questions by attorneys including, "Do you know the defendant or any other parties in this case", and "Do you have any medical conditions which could hinder your ability to sit on a jury", or "Would any of you give greater or lesser weight to the testimony of a police officer merely because of his or her status as a police officer?"
At the end of the process, a diverse cross-section of Beaver County residents was seated in the jurors' box. A jury consisting of 9 women and 3 men, including two African Americans, will be hearing evidence in the case and ultimately deciding Damontae Williams' fate.
Juror #1
A bubbly woman who wore a bright outfit that matched her personality. She originally told attorneys that she would be more likely to believe the testimony of a police officer than other witnesses due to their job, but later said she could follow a judge's instructions to judge each witnesses' credibility on an individual basis.
She said she was victimized in the early 90′s when her car was stolen, but assured the attorneys that would in no way cloud her judgement in this case.
Juror #2
A grandmotherly woman who told the attorneys that "I only have myself to worry about," Juror #2 said serving on the panel for several days would cause no hardship in her life. Her son worked briefly as a correctional officer, which she said would in no way affect her ability to be impartial.
Juror #3
Juror #3 is an African American man, and a county employee who has worked for Children and Youth Services for the past 10 years. "My main job is to try to keep kids in their houses with their families," he told the attorneys. He said he's regularly in Judge Dohanich's courtroom to testify in cases as part of his job, "I'm actually in this seat, this very seat, about twice a month."
He said neither his duties at CYS, or his ties to Aliquippa where the defendant is from, would affect his ability to be a fair and impartial juror.
Juror #4
An African American woman, Juror #4 is a Baptist minister who originally told attorneys she may have a moral objection to serving on a jury. She later clarified that such an objection would only arise in cases which involved the death penalty, and was reassured by counsel such a factor would not come into play in this case.
Juror #5
A middle aged man, Juror #5 said one of the names that appeared on the trial's witness list, Officer Dawn Shane, was a friend of his wife's and attended their wedding. He said it would in no way adversely affect his ability to try the case impartially, and was accepted as a juror without objection from the defense.
Juror #6
An elderly woman who was soft spoken, Juror #6 said she cared for her grandkids during the day, but that she could likely find a replacement sitter if chosen to serve on the jury. She was asked few questions by either attorney, before being accepted by both.
Juror #7
"Were you a teacher at Freedom High School," asked Prosecutor Chad Parks of Juror #7, a retired woman with a friendly disposition. "Yes," she answered. "Do you remember having me in class," he asked. "No, I can't remember," she laughed back.
Along with teaching Chad Parks, Juror #7 had also taught Officer Alan Shaffer, the alleged victim in the case. She told the attorneys that she could decide the case fairly and objectively.
Juror #8
An older man, Juror #8 was asked no questions by the prosecution, and very few by the defense. A questionnaire filled out by the prospective juror before today's proceedings raised no red flags for either, and he was quickly accepted as a juror.
Juror #9
A young woman who works as a registered nurse at Heritage Valley Beaver. She said her sister's boyfriend is a lawyer, but that has in no way caused her to form any opinions about the judicial system, and assured the attorneys she could judge the case based on the facts presented to her during trial.
Juror #10
An older woman, Juror #10 walked into the courtroom wearing a shawl around her shoulders. Like many other prospective jurors, at first she said she would be more likely to believe the testimony of an officer over that of an average citizen, "I just think they would be more honest in what they were saying." She later told attorneys that she could follow a judge's instruction to treat all witnesses equally, regardless of what they did for a living.
Juror #11
Like Juror #9, Juror #11 told the attorneys that she worked at Heritage Valley Beaver. She said her son-in-law serves as a correctional officer in a Supermax Prison, but that would in no way affect her ability to be impartial in this case.
Juror #12
A middle aged woman who said she was out of town when the incident allegedly occurred, and had seen nothing about it in the news. She was asked very few questions by either attorney before being accepted as the final juror in the case.
Share This Article:
The Latest News: