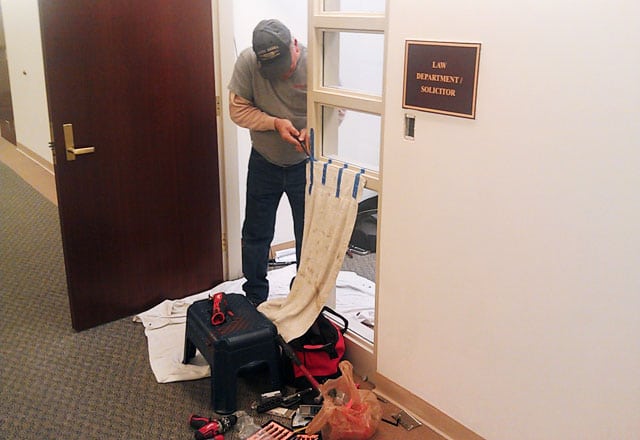 Beaver County Officials have begun taking security precautions independent of the Sheriff's Office, as tensions in the courthouse continue to mount. Law enforcement sources tell the Beaver Countian that both County Detectives and the Pennsylvania State Police have been contacted by county officials expressing security concerns.
The Law Department received approval from Commissioners to have a security system installed in their offices last week, which operates independently of the courthouse-wide system controlled by Sheriff David. The system includes a door buzzer with video intercom, wireless viewing station, a remotely operated electronic lock, and keypad entry. That move came after County Detectives encouraged the solicitors to keep their doors locked at all times.
County Commissioners and Beaver County Court Administrator Rich DeFilippi have obtained a printout of everyone who has an electronic pass to enter the courthouse. The passes allow an individual to bypass the metal detectors by accessing auxiliary entrances. Individuals with passes can also enter the courthouse after hours or during the weekend. "We determined that there were just far, far too many people entering the courthouse that way," said Commissioner Dennis Nichols. "All three Commissioners are going to sit down with Rich [DeFilippi] and decide who really needs to have a pass, and who doesn't, on a case-by-case basis."
One row official, who spoke on condition they not be identified by name, had internal dead-bolt locks installed on three separate rooms in their office last week. The official said they have instructed staff to rush into the ad hoc safe rooms, one of which is a small kitchenette, in case of an emergency. "My employees don't feel safe," said the official. "I'm not sure if these locks would really make a difference if something happened, but at least it's something."
District Attorney Anthony Berosh declined to comment specifically, but did confirm to the Beaver Countian he was approached by a staff member of yet another row official, who expressed concerns their offices had been rummaged through on several separate nights.
After the Beaver Countian first wrote about security concerns at the courthouse in a February 3rd editorial, officials say they were approached by Michael Debona, who is the courthouse's nightwatchman. "He came into my office and said Sheriff David sent him to ask everyone if anything was stolen, or if they felt intimidated by any deputies," said one official who had been approached by Debona. "I told him no because I wanted him out of my office. Why would I tell him anything?"
Michael Debona is Sheriff David's former campaign manager, and has been an outspoken critic of the Commissioners since their dispute with David over private security services began. Debona was one of the speakers at a biker rally on the courthouse steps organized by Sheriff David last September, and had publicly posted antagonizing comments after David's supporters became abusive at a public meeting of Commissioners. "I think the fact [Sheriff David] sent Debona around to everyone's office was an act of intimidation itself," said another county official.
Note: In the interest of full disclosure, the Beaver Countian has released a statement regarding an incident involving Sheriff George David and this reporter.
Share This Article:
The Latest News: